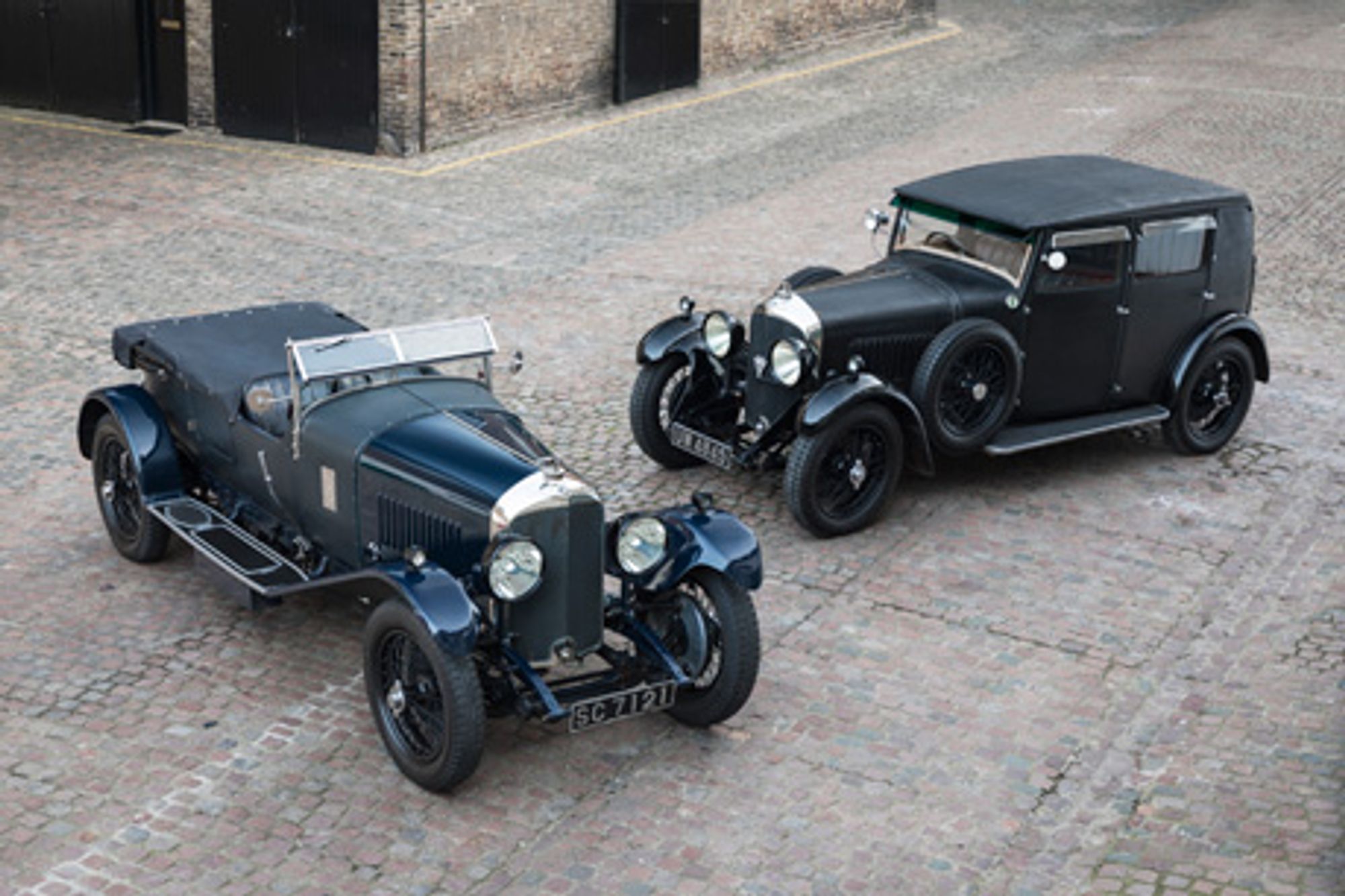 Following the sale of the magnificent 1930 Bentley Speed Six by Gurney Nutting from the Fiskens stand at Rétromobile, two further Bentleys unveiled at the show - a 1929 Bentley 4.5 litre Saloon by Maythorn and 1929 Bentley Speed Six Le Mans - have returned to the UK Mews and are unbelievably joined by another outstanding vintage Bentley. A 1930 Bentley 4.5 litre, which Fiskens confidently believe to be probably the most original vintage Bentley in world, makes up a trio of what is no doubt the selection of best in class vintage Bentleys available on the market today.
The 4.5 litre Saloon example offered, with body by Maythorn, is undoubtedly one of the most sporting original 4.5 litre saloons surviving. Recently refreshed by vintage Bentley specialists, R C Moss, with the utmost concern for its preservation, XF3520 is presented in remarkable original 'matching numbers' condition. Of particular note is the rare Maythorn four-door body on what is one of only eight known surviving intact 4.5 litre saloons. The current owner entered the Bentley in the prestigious Pebble Beach Concours in 2015 and it has since been used regularly as a family car, taking part in many tours and rallies, including trips from London to Scotland and back! It offers, perhaps, the ultimate enclosed vintage motoring experience and, accompanied by a thorough inspection report by pre-war Bentley authority, Dr. Clare Hay, provides a truly scarce opportunity to acquire a genuine, 'matching numbers' 4.5 litre saloon.
At the other end of the pre-war Bentley spectrum, is a 1929 Bentley Speed Six Le Mans, a genuine matching numbers example and recreation of 'Old Number One', the famous Le Mans-winning Bentley. This Speed Six has a beautifully documented history file, including wonderful images of the Bentley on Malta where it stayed during the war, eventually returning to the UK and Lord Doune's fabled motor museum until the late 1990s. Realising the significant place that 'Old Number One' held in British motoring history, a car that ceased to exist in its 1930 Le Mans-winning guise, the Speed Six's current owner saw that this example offered the possibility to truly reincarnate the legendary Le Mans winner, whilst maintaining all its original matching number parts. Since restoration was completed late last year, the Speed Six has been enjoyed on the Royal Concours tour and has been beautifully settled in. It offers, without doubt, the ultimate in vintage Bentley motoring and it drives as well, if not even better, than it looks!
The 1930 Bentley 4.5 litre tourer is an exceptionally preserved matching numbers Vanden Plas-bodied example. Owned in period by Scottish lady driver, Lucy Logan, with a full and beautifully documented history by Bentley authority, Dr. Clare Hay, this 4.5 litre not only retains all of its original fabric and boasts an interior in practically 'as new' condition. Sat alongside the original 4.5 litre saloon, rarely have two such original bodied 4.5 litre Bentleys been offered at the same time and they make a magnificent pair.
The full Salon Rétromobile collection is available now to view at the Mews. Full details of all Fiskens' current stock can be found by clicking here.