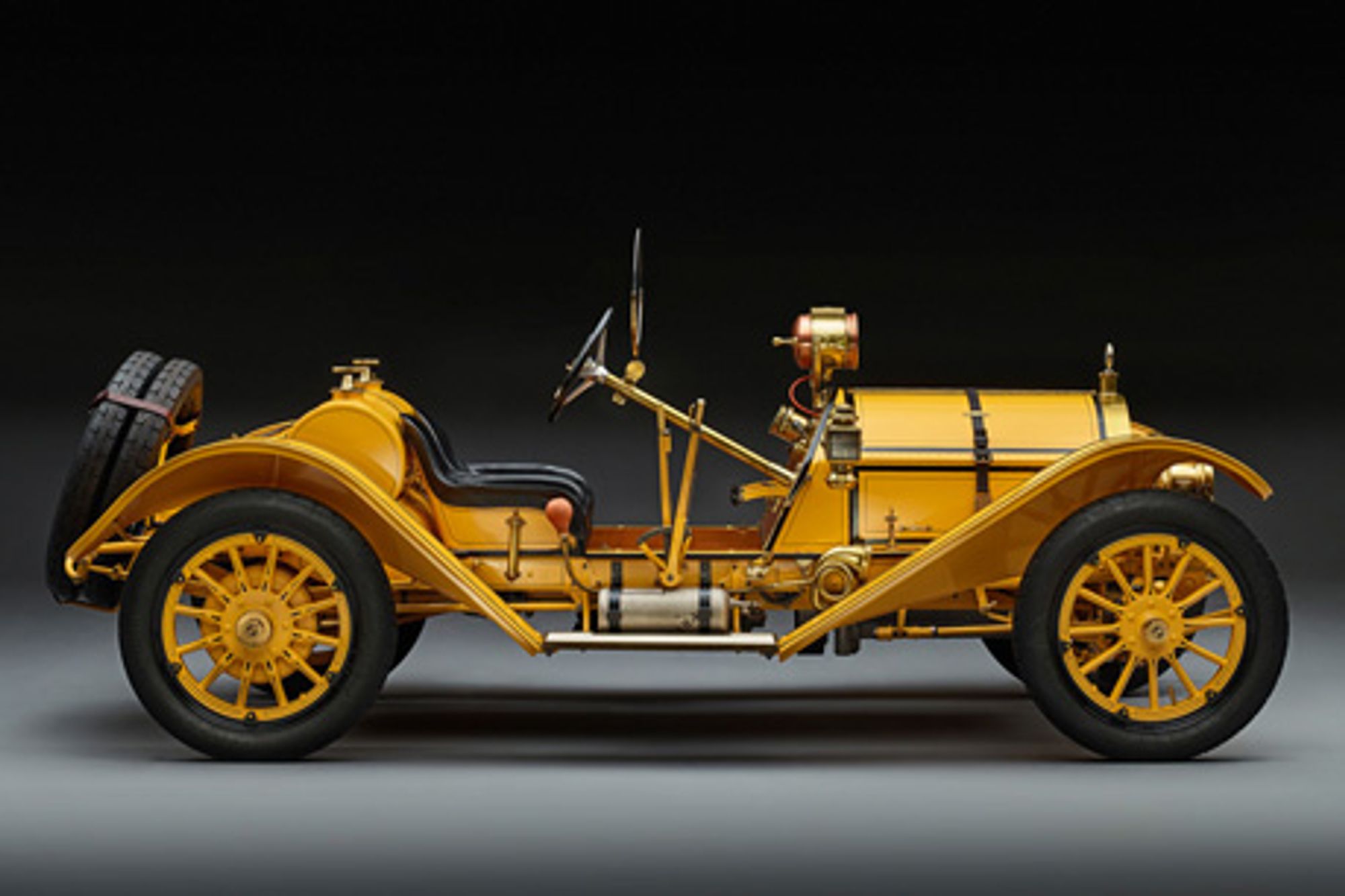 Alongside the competition-bred machinery on the Fiskens stand at the Salon Rétromobile this week, the world-leading London-based company is presenting a 1912 Mercer Raceabout, a 1914 Rolls-Royce Silver Ghost and a 1931 Bugatti Type 50. All production model cars, these ultimate sports touring examples represent the best in class. From the ultimate pre-World War I American playboys' road racer to one of only two surviving Molsheim factory bodied Type 50 Roadsters, the history of each and every consignment makes for interesting reading.
The 1912 Mercer Raceabout was museum displayed in the US from the 1930s until the late 1960s and was formerly in the collections of William Lassiter and Dean Butler. Described in US magazine, Old Cars Weekly, as 'without doubt, the greatest pre-war car built in the United States', the Mercer Raceabout was an automobile that could be bought, driven straight to the race track and, with or without its road equipment, driven to a strong placing if not outright victory. Little has changed and, in its class in vintage races and international rallies today it is a winning contender.
An exquisite 1914 Rolls-Royce Silver Ghost, with a torpedo body by Kellner, has been the subject of a meticulous 'frame up' restoration, regardless of expense, by renowned Rolls-Royce restoration specialist, Steve Littin. A 2015 Pebble Beach Concours class winner, it is the ultimate sporting Edwardian Ghost. With the launch at Rétromobile of an amazing three-volume book, The Kellner Affair by Larsen and Erickson, recounting the story of the influential French Coachbuilder and his extraordinary life, the Ghost is likely to be of significant interest, having returned to Europe for the first time since restoration.
Fast-forward to the thirties and the 1931 Bugatti Type 50 which is a fabulous example of Ettore's 5-litre twin overhead camshaft supercharged Type 50. One of only two surviving Molsheim factory bodied Roadsters, this example (chassis 50123) was first owned by the famous French Fauvist artist, André Derain of Paris, making it a very fitting addition to the Fiskens' stand this week. Its current owner was attracted to the Type 50 for its potential as a strong and powerful road rally car and, as such, has spent considerable time and resource bringing the Type 50 up to its full driving potential, which includes having new wheels recast, along with chassis and shock absorber fine-tuning to get the balance of the Bugatti just right. We at Fiskens can confirm that, having driven 50123, it is all we expected Bugatti's legendary Type 50 to be; easy to drive with beautiful brakes and steering, accompanied by lots of low-down torque.
Speaking about the collection, Gregor Fisken comments, "The variety of machinery on the stand this year has been exceptional and it has demonstrated the broad church of best-in-class automobiles that Fiskens is renowned for. For me, the highlight of the event so far has been the number of customers and motoring friends that have visited us here in Paris. I look forward to seeing many more over the final days of the show and back in the Mews when we return the collection to the UK next week."
For more information about Fiskens and to view the current selection of stock, please visit: www.fiskens.com