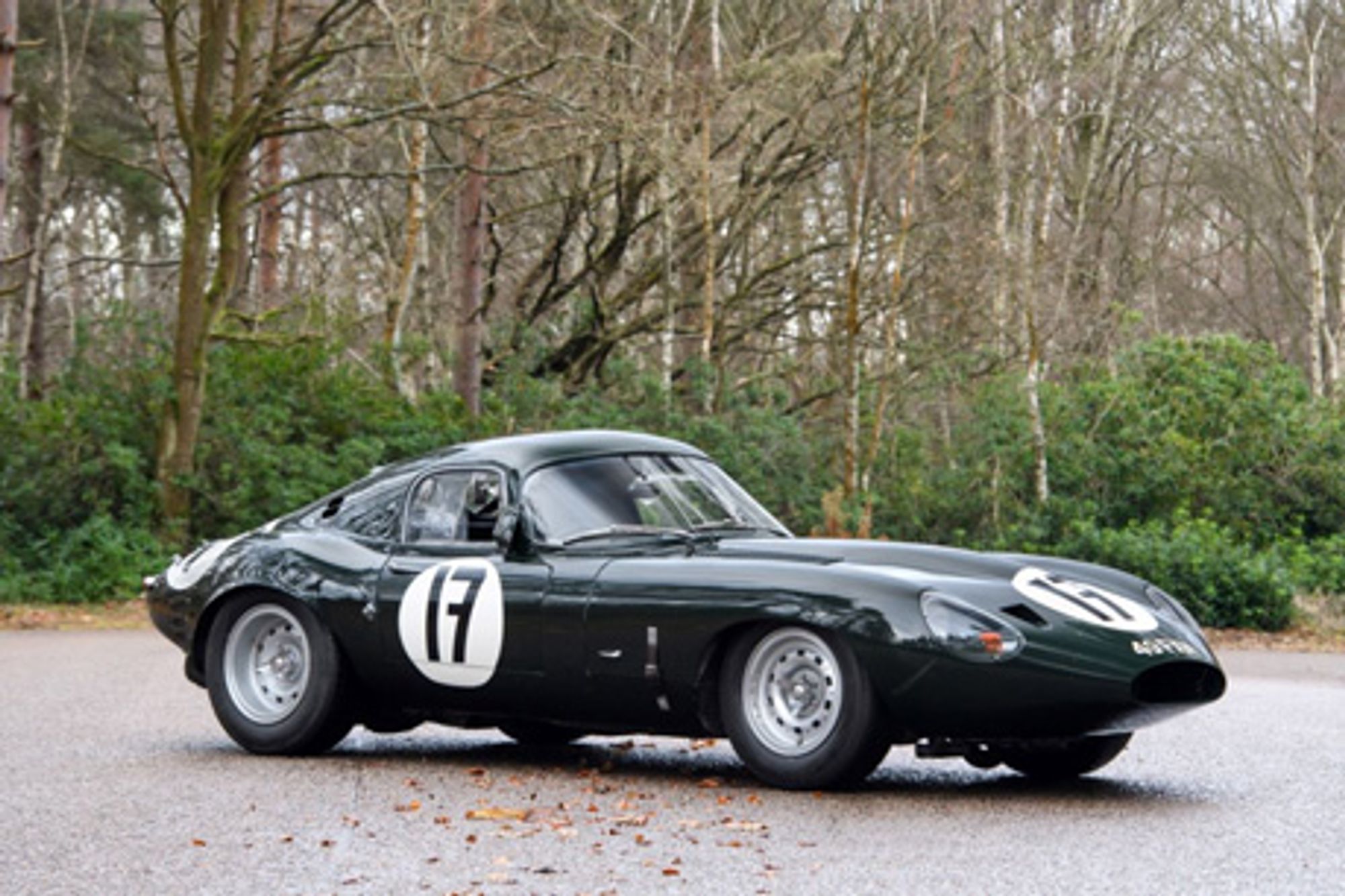 With this year's edition of Salon Rétromobile already in full swing, attendees have been attracted to the Fiskens' stand to view a very important car in the development of motor racing aerodynamics, Jaguar E-type Lightweight '49 FXN'. In 1963, two young amateur racing drivers, Peter Lumsden and Peter Sargent, along with their friend Dr. Samir Klat – a talented mechanical engineering student from Imperial College London – acquired 49 FXN with the specific intention to modify and develop the E-type for the 1964 race season. The remainder of 1963 saw Lumsden and Sargent rage battle in the Lightweight at the Nurburgring 1000km, Goodwood, Silverstone and Brands Hatch with varying degrees of success. Season completed, Lumsden, Sargent and Klat started their programme of modifications. By the time that 49 FXN next raced – at Goodwood in March 1964 – it would be a very different machine.
This 'band of brothers' first turned their attention to the E-type's aero abilities, specifically reducing drag. Early 1964 saw a series of novel tests, including driving 49 FXN on the M1 motorway with wool tufts attached at strategic points, enabling the team to monitor air flow. They also focused on chassis and engine development, to notable effect. According to Jaguar's official report from the 1964 edition of the Le Mans 24 Hours, 49 FXN climbed as high as third in class behind the Shelby Daytona Coupés. It was timed at 174mph on the Mulsanne Straight, no mean feat in this era of sports car racing.
Following a string of accolades in 1964 and 1965, the Peters hung up their respective helmets and 49 FXN passed into the hands of some British club racers, before a twenty-year spell in the USA. It returned to the UK in 2000 with Sir Anthony Bamford who returned it to serious competition.
In the hands of subsequent owners, 49 FXN has continued to compete at the top level of historic motorsport. Each owner has added their own chapter to the history of this most charismatic and beautiful of E-types, and to see the car now is to see evidence of its various lives.
Fiskens' Rory Henderson says, "49 FXN is the star of a real life David and Goliath story. This is a Jaguar that was run by inspired privateers who took on the might of Ferrari and Shelby in arguably the greatest era of GT racing. It was competitive on circuits as polar in character as Le Mans and the Nurburgring, and even now is an instantly recognisable presence in historic motorsport. Few cars can offer such originality and such a compelling story as 49 FXN. It is an absolute pleasure to be representing it at Fiskens, underlining our market position as the place where the world's greatest automobiles come to be sold".
Joining 49 FXN, the beautifully prepared 1954 Jaguar XK120 ex-Works competition displayed on the stand offers a rare opportunity to acquire a highly original, ex-Works, sports racing Jaguar with successful period rally laurels. In the capable hands of privateer crew, Eric Haddon and Charles Vivian, it was class victor at the 1954 edition of the Coupe des Alpes and second in class at the Tulip Rally of the same year.
For more information about Fiskens and to view the current selection of stock, please visit: www.fiskens.com