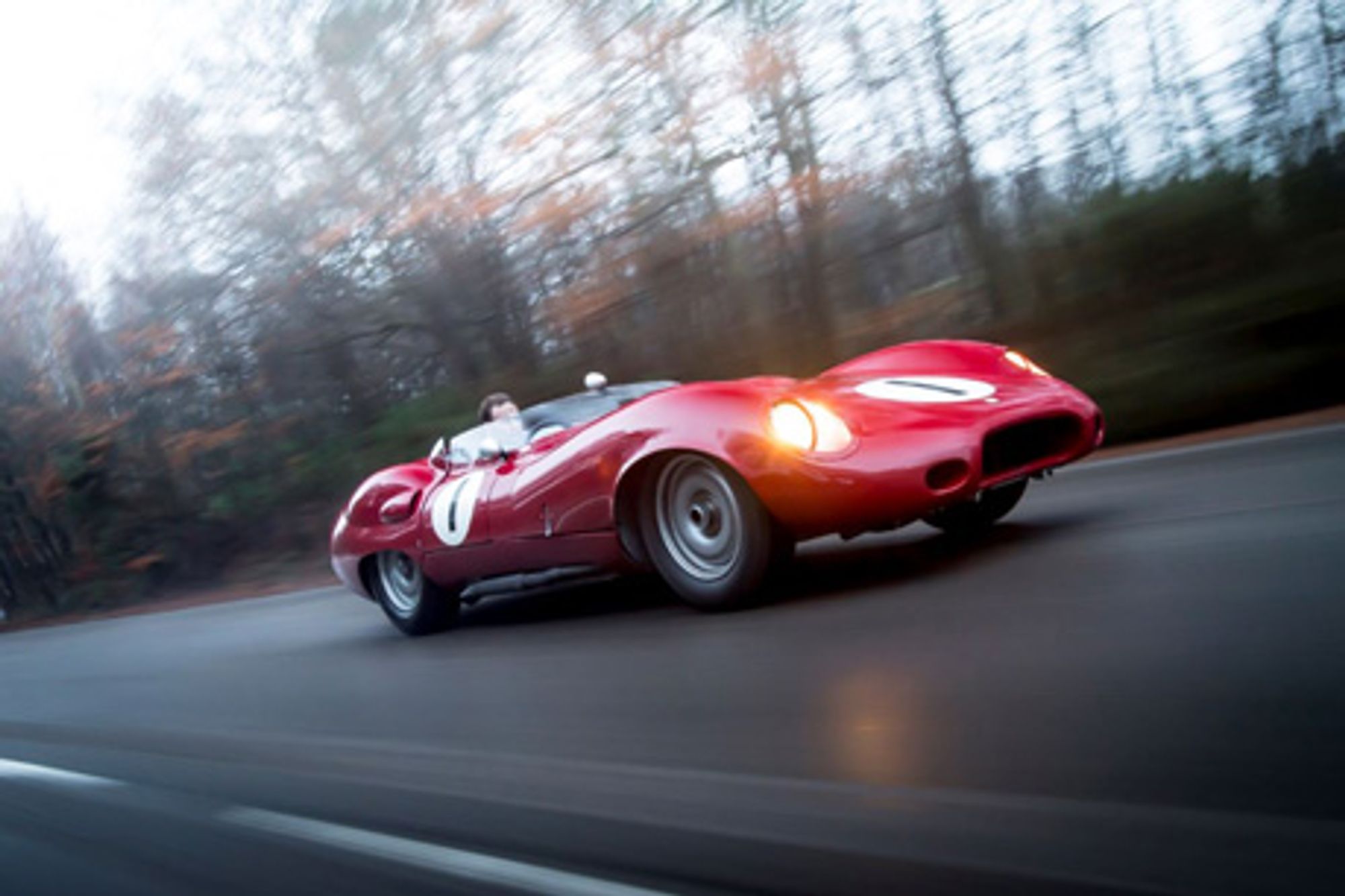 The 1950s was a halcyon era for British sports car racing, with several marques creating a valuable engineering and design legacy for future motorsport endeavours. Visitors to the Fiskens stand at the Salon Rétromobile (Stand 63, Pavilion 1) have been able to enjoy two very different, yet equally important sports racing visions that encapsulate this epic era of racing.
The wonderful DB3 is one of just eight remaining examples built by the iconic British sports car manufacturer, Aston Martin. The first of just five privateer DB3s built, DB3/6 entered existence at the very height of sports car racing in the last century. 1952 saw the first and only sports car Monaco Grand Prix to be run and 1953 heralded the launch of the inaugural FIA Sports Car World Championship. These DB3s were the first true 'space-frame' sports racers to be born out of this British icon and, as such, paved the way to sporting success for the Aston Martin marque. As the first Aston to be built from the ground up as a pure racing car, the DB3 started a chain reaction that would lead directly to Aston Martin winning not only Le Mans, but the world sports car championship eight years later.
This example, DB3/6 had a very busy season on track in its inaugural year, finishing eighth in the Ulster Trophy Formula Libre race at Dundrod Circuit in May, twelfth in the British Empire Trophy race at Douglas Circuit on the Isle of Man, and competing in the British Grand Prix Sports Car race at Silverstone in July. Highlights of the season include the Tourist Trophy World Sports Car Championship race on the Isle of Man in September, where owner, Dickson and Works driver, Titterington placed fifth overall against stiff competition. Dickson also collected the silverware for first in class at both Bo'ness and Rest and be Thankful Hill Climbs in Scotland, setting new records at both venues. DB3/6 was listed in the official entry list for the 24 Heures du Mans as a reserve, with a Mr. Edgar B Wadsworth as the entrant, and with Wadsworth and Dickson listed as the drivers.
At the same time as Aston Martin was developing its DB3 programme, industrialist Brian Lister was building sports racing cars at his Cambridge-based workshops and competing them at the same races as Aston Martin with formidable success. The fitting of Jaguar and other large engines in the latter part of the decade made the Listers pretty much supreme; regularly trouncing the works offerings of Jaguar and Aston Martin on track. Nonetheless, all good streaks must come to an end and by 1958 their dominance was under threat from a new breed of sports racing cars known as the giant killers – Lotus, Coopers and Lolas that were nimble, light and steeped in aerodynamics, albeit lacking in raw power.
Sensing this change, Lister employed Frank Costin, a renowned and talented engineer, fresh from De Havilland's pure aerodynamics department, as Chief Designer. Costin's contribution to Lister's aerodynamics was exceptional and the important example offered on Fisken's stand is the 1959 prototype Lister Streamliner BHL 121, designed by Costin and fitted with the first Chevrolet OHV V8 engine to be used by the Cambridge-based marque. The body design features a more streamlined front than the results of all previous collaborations between Lister and Costin. BHL 121 also achieved a higher top speed, along with notable gains in road holding. However, by far its most striking attribute is its flowing silhouette, celebrated by many in period as a vision of automotive beauty.
BHL 121 was purchased by a Mr. John Ewers in 1959 and was campaigned during that season at Crystal Palace (as number 64), Silverstone (as number 1) and in the following year at the Goodwood B.A.R.C. Members' Meeting (number 98), where it entered both the Whitsun Trophy and Whitsun handicap races. In 1960, the Lister then departed the UK for Rhodesia, where it was bought by a Mr. Jimmy de Villiers, who had it campaigned in anger by driver John Love. The Lister remained in South Africa until the 1980s when a new owner took it to the United States.
Rory Henderson of Fiskens comments, "The DB3 and the Lister Costin Chevrolet demonstrate the progress of British racing marques in the glorious automotive period that is 1950s sports car racing. Both steeped in history, these examples are nevertheless campaigned with vigour at many of the top international historic racing events today, including the Le Mans Classic and the superb annual race events at Goodwood. I am delighted to have these pioneering machines on our stand and to see them attracting the attention that they both deserve. As ever, we have been pleased to see many of our customers and friends in attendance at Salon Rétromobile and look forward to welcoming many more to the Mews on our return to view these exceptional cars."
For more information about Fiskens and to view the current selection of stock, please visit: www.fiskens.com