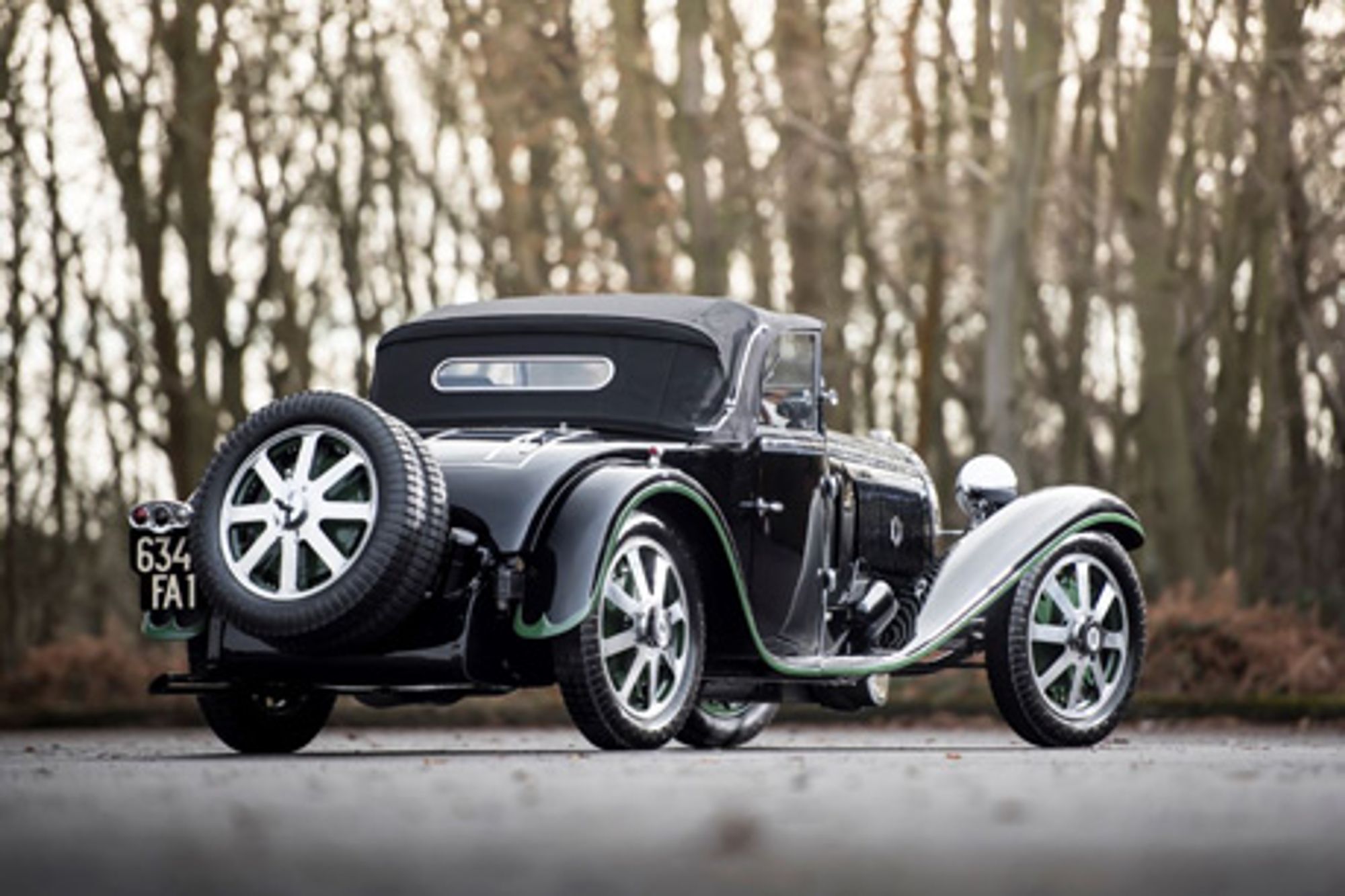 With this year's edition of Salon Rétromobile already in full swing, crowds have been drawn to the Fiskens' stand to take in two pre-war heroes; 1931 Alfa Romeo 8C Spider by Zagato and the 1932 Bugatti Type 55. Pitted against each other by contemporary motoring journalists, with the Bugatti Type 55 being a thinly veiled Grand Prix car, these important examples outline two very different experiences of the era; the Alfa being put through its paces by the supreme Tazio Nuvolari at the Belgium Grand Prix and the Mille Miglia, and the Type 55 Bugatti being bodied in the height of luxury by Lyonese coachbuilder, Billeter & Cartier, to allow additional leg room for its gentlemanly doctor owner.
The Type 55 is, for many, the car of dreams. Unlike the majority of their contemporaries, Ettore and son, Jean Bugatti understood the direct correlation between success on the track and the demand for 'race-enhanced' road cars by the well-heeled general public that were both extremely capable from an engineering standpoint and coveted by speed and beauty aficionados alike.
The Type 55 Bugatti Super Sport model was introduced at the Paris Salon in October 1931. Together with its modified Type 51 powerhouse, the model boasted a Roots supercharger, magneto ignition, eight-spoke cast aluminium wheels and a four-speed gearbox. As deepening depression gripped the world's economy, demand for this type of unadulterated luxury car dropped, meaning that no more than 38 chassis were built in period. Of those 38 Type 55s, it is generally believed that only 27 have survived in one form or another, but very few remain intact with their original bodies. 55206 is one such example. Dismantled and hidden during World War II to preserve this French beauty from requisition, 55206 is undoubtedly a superbly original and unique example of what is generally acknowledged as the best Bugatti road car ever produced and warrants consideration from any pre-war sports car devotee.
The 1931 Alfa Romeo 8C Spider by Zagato presented by the London-based world-leading automobile specialist paints a very different story of the era, one full of sporting derring-do. The 2300 Alfa, regarded by many as the finest pre-war sports car, grew to even more exulted heights with the 8C model that sported a new supercharged straight eight engine that pushed performance into another league. Chassis 2111006 is one of the first 'Corto' Spiders. In the Alfa's debut year, it is linked with many Alfa legends including Enzo Ferrari and Italian ace driver, Tazio Nuvolari. Finishing third at Spa in the Belgium Grand Prix of that year, followed by a win in Nuvolari's hands at the Coppa Ciano, the Alfa was a stead to be reckoned with.
A competitor in the 1931 Mille Miglia, along with countess other events, it has enjoyed a different types of 'wins' in recent years, placing first in its class at the 2015 Cartier Style et Luxe, held at the Goodwood Festival of Speed. To preserve the Alfa and, reward its lucky driver, the original engine has been removed, a common sense decision with many of the great 8Cs. An exact copy built by foremost specialist Jim Stokes is now fitted while the original motor is carefully stored. With a freshly supercharged eight cylinders to match even Nuvolari's demands, this famous Spider drives as superbly as it looks.
Alfa Romeo 8C Short Chassis Zagato Spiders are very rarely offered, particularly one with such illustrious competition history and direct links to Jano, Zagato, Ferrari, and Nuvolari. Proprietor, Gregor Fisken says, "The 8C and the Type 55 are both rare and superb examples of the finest that the pre-war motoring era has to offer a collector of fine and important automobiles. One of my greatest pleasures is the diversity of machinery that we offer, from both the track and the road, sometimes only linked by their 'best-in-class' positioning. As ever, we have been pleased to see continued buoyancy in the classic car market at Salon Rétromobile and look forward to the rest of the show."
For more information about Fiskens and to view the current selection of stock, please visit: www.fiskens.com