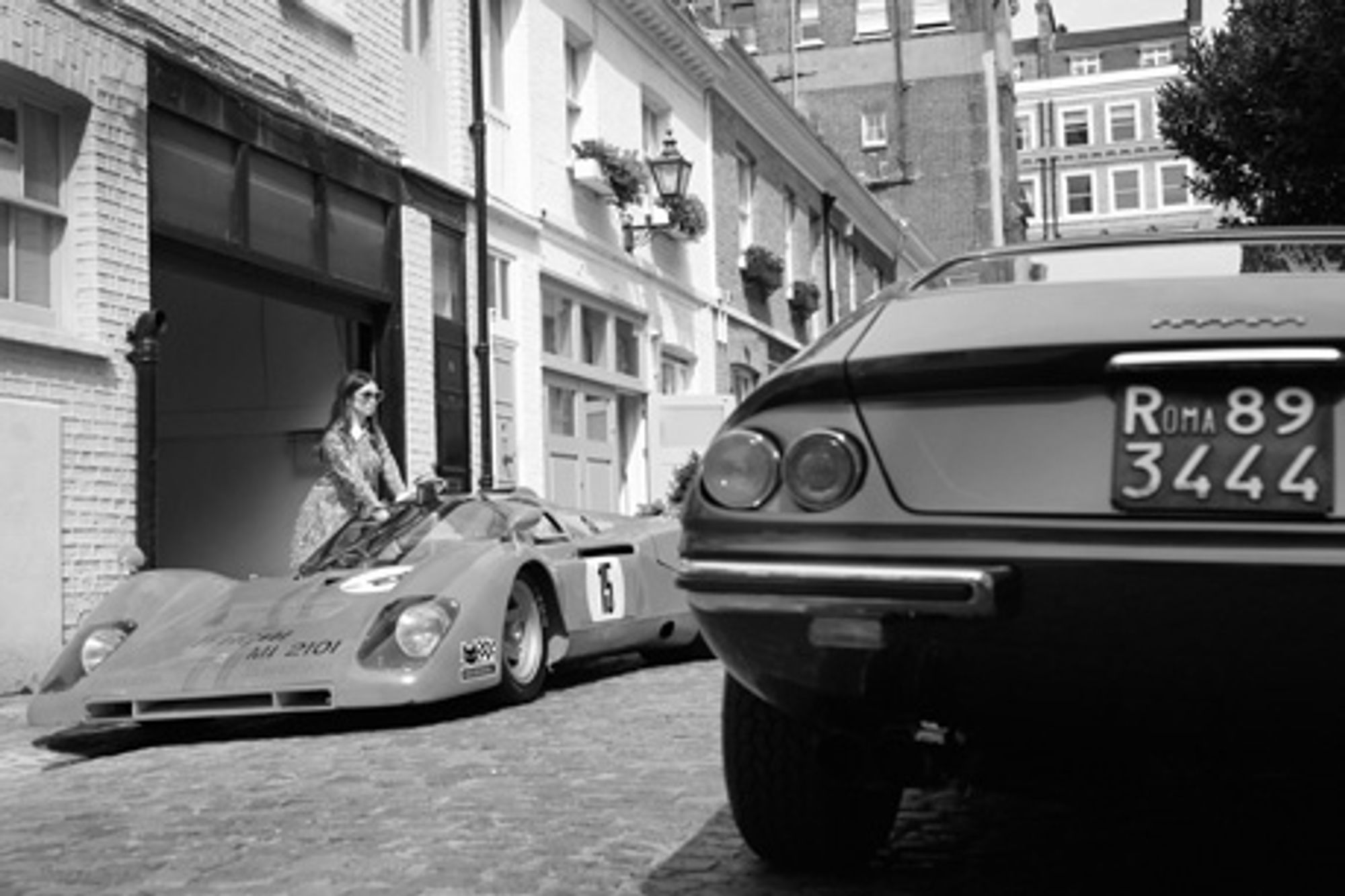 Fiskens, unquestionably one of the world's leading specialists in fine historic automobiles, is celebrating a fantastic summer in which the Kensington Mews-based business has successfully sold some of the world's rarest cars for record-breaking prices. And all this, despite the full weight of the law being brought to bare on Fiskens' hitherto law-abiding team.
Many will recall the stunning and hugely significant 1970 Ferrari 512M which formed the centrepiece of Fiskens' Retromobile display and its new 2016 collection. The Ex-Escuderia Montjuich car is a two-time veteran of Le Mans, the Daytona 24-Hours, the Tour de France and the Buenos Aires and Paris 1000 Kilometre races, and is a rare prize indeed to any serious collector of important competition vehicles. The 512M has recently been sold to a delighted new owner for a record-breaking price, but not before it became the focus of law enforcement officers on the streets of Kensington! It has to be said that Kensington is one of London's more genteel boroughs, so misdemeanors never go un-punished. It seems that even an ex-Le Mans Ferrari can't park wherever it likes in the mews, even for a photo-shoot, and no amount of pleading with the local traffic warden would stop him from issuing a ticket. The fine was duly paid and the story became an Internet sensation, seemingly reaching all corners of the globe with the story trending as the second most read news item on the BBC website.
The team at the Mews have been excavating a long lost body that many thought would never be found. But fret not; this is actually an achievement that even the best detectives in London would be proud of and it has resulted in the unearthing of the historically significant original body panels for our beautiful 1948 Alfa Romeo 6C Competizione Coupe. The car is one of just three cars of its type built by Alfa Romeo Corse. The first post-war competition model, chassis 920.002 is one of two, and made four consecutive Mille Miglia appearances from 1948-51 and completed three Targa Florio's from 1949-51. Previously the subject of a 100-point quality restoration, this discovery now offers the tantalizing prospect of reinstating the original body panels to the Alfa Romeo, thus completing the final piece in its illustrious history.
The summer of success has included a number of other very notable sales. The cars of Maranello continue to be in high-demand, and in today's market buyers seem eager to secure the very best examples through the discreet and highly professional services of a respected dealer, such as Fiskens. Our 1968 Ferrari 166/246 Dino, one of only two cars built for the 1968 Formula Two season and which later changed configuration to contest the Tasman season with the late Chris Amon, is now in the hands of a new owner and we hope to see it out on track soon. Another rare Maranello classic to find a new home is the 365 California, one of only 14 built. Both these incredibly rare cars have achieved record results through Fiskens, and we are proud to have worked so effectively on behalf of the buyers and sellers of these fine automobiles.
Whilst we love post-war exotica, Fiskens also has a well-known love of pre-war machinery and the golden age of motoring. Recent examples include a lovely 1926 Bentley 3/4.5 litre, whilst current stock includes a much sought after 1925 Vauxhall 30/98 OE, widely regarded as one of the finest performing touring vehicles of the era. The Vauxhall is a welcome addition to our stock which also boasts a number of other new highlights including a Ferrari 250 Lusso and an Aston Martin DB5 Volante, certainly two of the most desirable road sports cars of the 1960s.
Fiskens has also been busy this summer attending some wonderful events and displaying some mouth-watering machinery. A highlight was the recent Pebble Beach Concours, an event that attracts the world's finest cars and where awards are hard won. It is therefore of particular delight that Gregor collected an award for 2nd in the Preservation Class with a beautiful 'Semi-Lightweight' E-Type Jaguar, which also collected the Briggs Cunningham Trophy, donated in 1978 by Briggs Cunningham himself, for the most exciting open car present. And all this in only his second time of showing machinery at the event.
This weekend is the wonderful Royal Windsor Concours of Elegance, an annual spectacular to rival Pebble Beach for sheer quality. Fiskens will be there in force, not only with a 1929 Bentley 4.5 litre Short Chassis entered in the Concours, but also with two cars on a bespoke stand including the Vauxhall 30/98 and a Ford GT40 Prototype, which is there for display purposes and which is sure to wow visitors. It goes without saying that we would be delighted if you could join us at the event which takes place 2nd to 4th September.
Finally, it is timely for us to mention our eagerly anticipated new, state-of-the-art showroom in Queens Gate Place Mews. Building works and fitting-out are now complete, so excitement is building, to say the least. With this in mind, Fiskens are now actively seeking the world's greatest cars to consign to the new premises.
With no two negotiations ever being the same, Fiskens's diverse knowledge and experience means there has never been a better time to consign - and all for one single commission.
For a confidential discussion please call Gregor, Rory or Robert. Email cars@fiskens.com or for more information about Fiskens and to view the current stock, please visit: www.fiskens.com