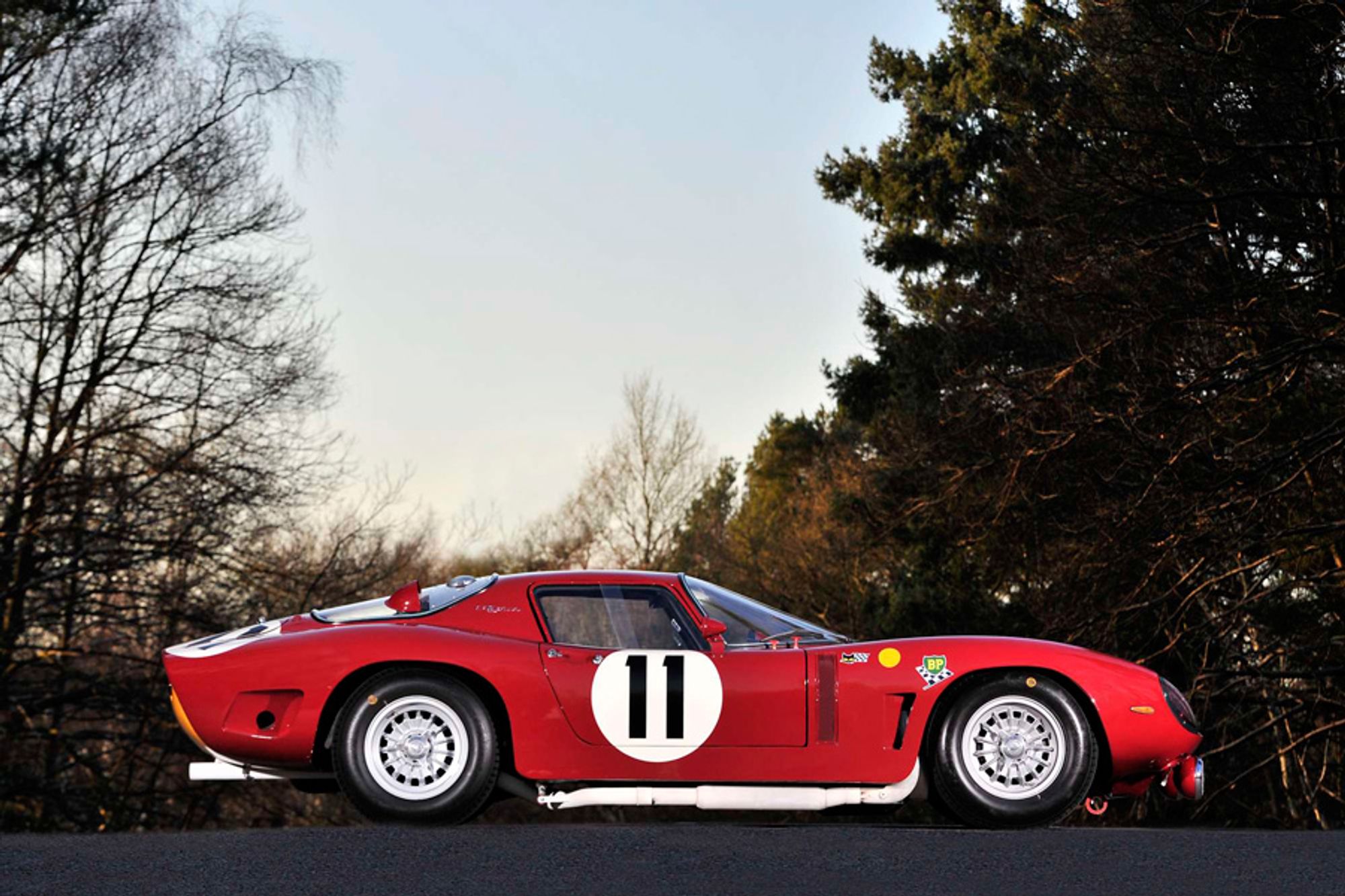 Built by Giotto Bizzarrini as the ultimate example with a lighter chassis, revised rear suspension and lightweight fibre glass bodywork

Run by the works at Le Mans in 1966 and 1967, 1966 Targa Florio and Monza 1000kms

Stored for some thirty years before being sympathetically re-commissioned

The only right-hand drive, fibre glass competition car built by the Italian marque

Chassis number BA4 0106
The Fiskens stand has displayed a truly incredible collection of fine competition vehicles in Paris this week. The 1965 Bizzarrini Competition Lightweight Coupé is one such car, and visitors to the show have delighted in getting close to the car over the past few days.
After leaving Ferrari in 1961, Giotto Bizzarrini, who had aided the development and design of the 250 Ferrari series, including the famed GTO, was hired by Renzo Rivolta to develop a GT car. The initial concept resulted in the Corvette-engined Iso Rivolta, but Giotto had aspirations to make a competitive race car. The outcome was the striking A3C, which achieved immediate track success when launched in 1964. The near perfect weight distribution, sleek aerodynamics and powerful V8 ensured that it was a hugely competitive entrant including a second in class at the Nurburgring and 14th overall at Le Mans.
Produced in 1965, chassis number BA4 0106 is distinctive in that of all the race cars it is the only right-hand drive example produced by the factory. It first competed at the 1000kms of Monza in 1966 with Edgar Berney and Antonio Nieri where it did not finish the race due to a lack of wet weather tyres. Two weeks later it was competing in the Targa Florio where, after some enthusiastic driving, was doing well until a head gasket blew.
In 1966 Bizzarrini sent two cars to the 24 Heures du Mans. BA4 0106 was being driven well by Sam Posey and Massimo Natili until, after some hours, it was disqualified for crossing the 'Pit Wall' line two laps in a row. At the end of the1966 season, BA4 0106 was uprated with a 7 litre big block engine and returned to Le Mans in 1967 in a slightly different guise, with a front oil-cooler and intricate bonnet scoop. After Bizzarrini's bankruptcy in 1971, this ex-Le Mans car was sold minus its engine, only to remain mothballed for some 34 years.
As Chris Lackner, the Bizzarrini expert who has inspected the car, said: "One wonders what this car, the last Le Mans Iso Bizzarrini to be discovered, can prove on the historic circuit, especially if fitted with the 7 litre big-block torque-monster!"
Passing into the hands of Dutch enthusiast David Hart in 2008, BA4 0106 has been raced with success in historic events with its most recent driver sharing with modern GT Audi superstar, Frank Stippler. BA4 0106 has been returned by Simon Blake of Historic Automobiles to wearing the same livery and specification as it ran at Le Mans in 1966.
Motorsport Magazine has revelled in the opportunity to drive this amazing car, and the feature is a highlight in the current issue. To view a PDF of the Motorsport feature, please click here. To see a Fiskens film of the Bizzarrini, please click here.