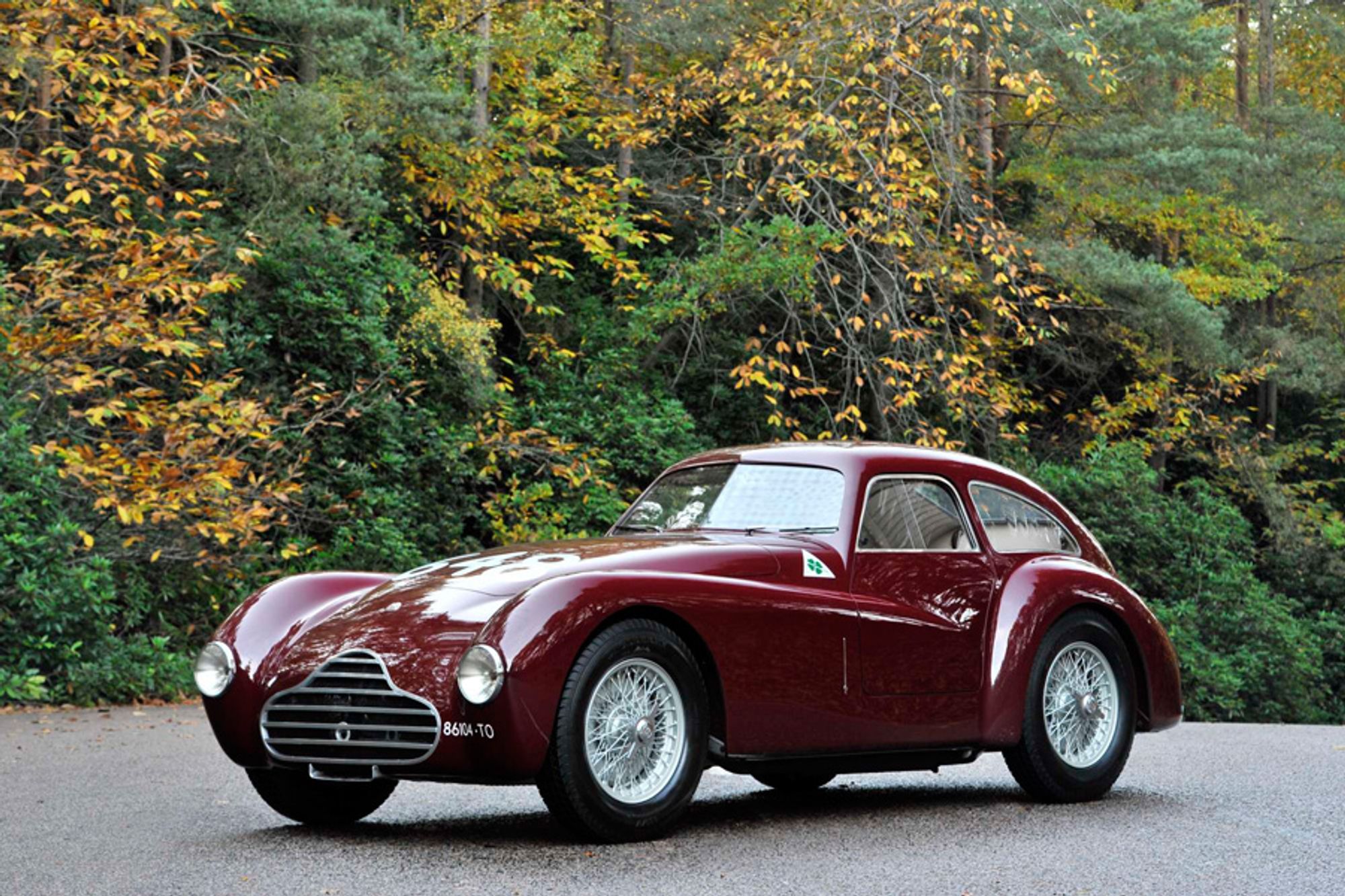 This stunning car is one of only three cars built by the Alfa Romeo racing department

A four time Mille Miglia entrant, including third overall in 1949

Triple Targa Florio entrant, including second overall in 1949

Retained within the Dovaz collection

Chassis number: 920.002 (002) Engine number: 921002
Rétromobile is buzzing this week as visitors flock to the Fiskens stand to catch a glimpse of the wonderful and very rare, Alfa Romeo 6C 2500 Competizione Coupé. This historic car is one of just three of its type built by Alfa Romeo Corse and is the first post-war competition model. Chassis 920.002, following four years of hugely successful racing, was mothballed and left untouched for a staggering forty years as part of Michel Dovaz's fabled 'Sleeping Beauties' collection.
The 6C 2500 is considered by many to be the end of a golden era for the great Italian manufacturer, with many believing it to be the last truly great car that the marque produced. This particular example, with its 'textbook' racing history from the period, its rarity and a Pebble Beach Concours-winning restoration, is arguably the best example in existence today.
Originally delivered to well-known privateer racer, Franco Rol, in May 1948, chassis 002 made four consecutive Mille Miglia appearances from 1948-51 and completed three Targa Florio runs from 1949-51, where it enjoyed significant success across the board. This is the only car on record to have competed in four successive Mille Miglias from 1948 to 1951; a fact that reinforces just how special the car is. Furthermore, Rol and his co-driver managed an impressive third place overall in the 1948 edition of the Mille Miglia and second place in the 1949 edition of the Targa Florio. The car's remarkable period competition history was rounded off with a third place in the 1950 and fifth place in 1951 editions of the Targa Florio.
In 1954, #002 was acquired by journalist and wine expert Michel Dovaz who famously stored cars in an overrun garden in the South of France, and the expression 'Sleeping Beauties' was coined by interested photographers and journalists, who documented the collection.
In subsequent ownership, #002 was restored in Italy prior to being shown at three major events in 2003: The Concorso D'Eleganza Villa d'Este; The Louis Vuitton Classic and the Concours D'Elégance Paleis Het Loo. Latterly, in US ownership, a final and exceptional restoration was undertaken which brought the car to its current condition, based on its 1949 appearance. The car was proudly awarded an impressive 100 point score in 2005 at Pebble Beach Concours.
The Alfa is now presented for sale with an impressive collection of documentation, which includes a full ownership history, a raft of period photographs, race information, newspaper clippings, and an original Alfa booklet. The collection is presented in a leather Alfa-branded binder, which is accompanied by a book that details all editions of the Mille Miglia in detail. 002 recently took part in the 2015 edition of the Coppa D'Oro Delle Dolomiti and would be welcomed at all the best historic events, including, of course, the Mille Miglia.
A film of this special car can be found by clicking here.