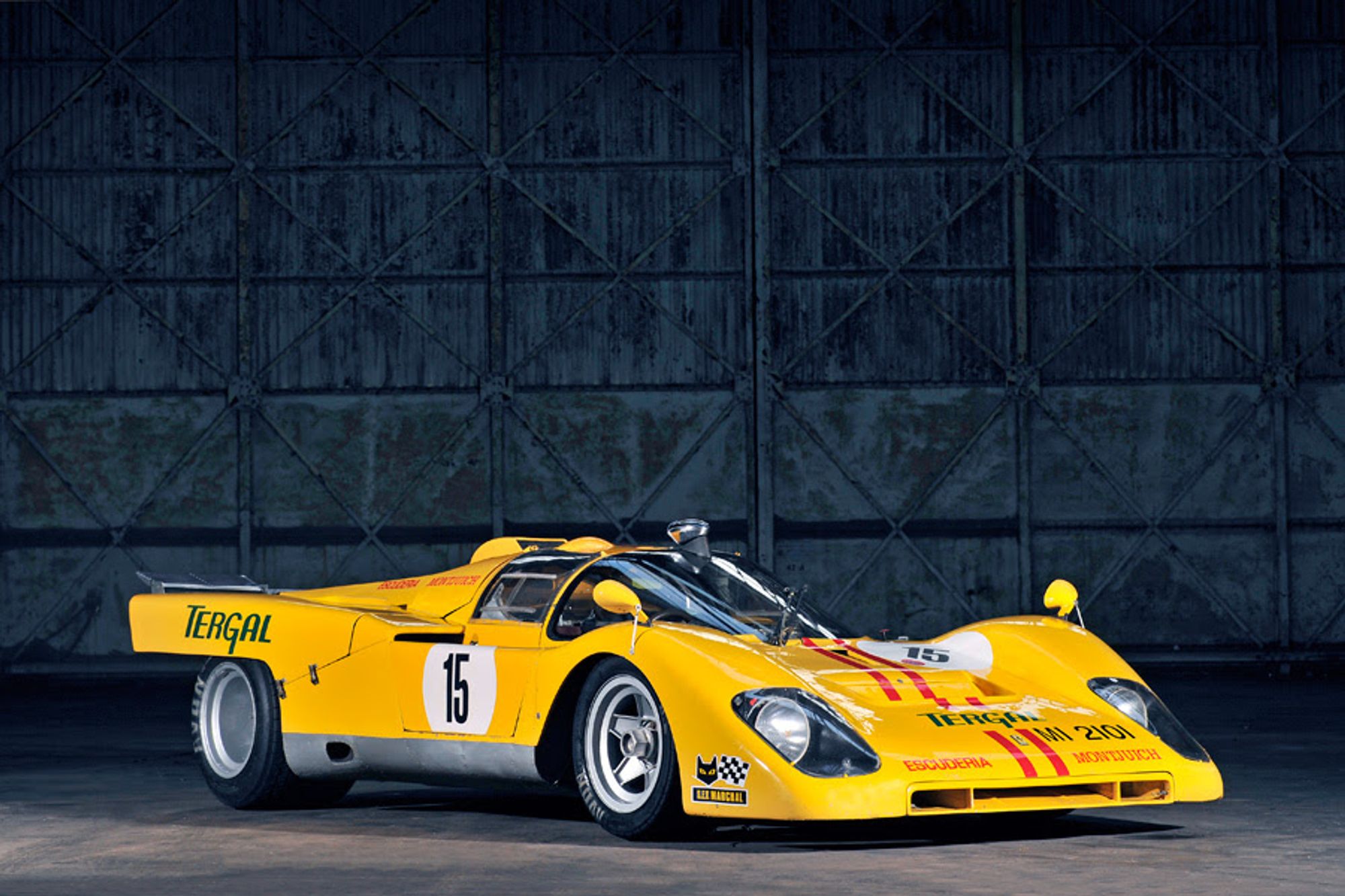 A heroic survivor from arguably the greatest era of sports car racing

Two time Le Mans; Daytona 24-Hours and the Monza, Buenos Aires and Paris 1000kms

1971 Tour de France runner-up in the hands of Juncadella and Guenard

Gallantly driven to 192mph and a Land Speed Record in 1976 by Derek Bell

Preserved in long-term ownership and offered publically for the first time

Chassis number: 1002, Engine number: 261C no. 13
Hailing from what was undoubtedly one of the great periods of sports car racing, the Ferrari 512M is an iconic racing car; famed for its fearsome performance, stunning looks and for the legendary on track duals with Porsche's magnificent 917. Open almost any history book on the period and the pictures will depict, amongst the front-running pack, a bright yellow Escuderia Montjuich Ferrari. It is that very car that sits upon Fiskens' stand at Retromobile this week.
Perhaps no other era has quite captured the high-octane drama, mystique, danger, heroism and sex appeal of sports car racing – an era magically depicted by Steve McQueen's film, Le Mans. The Ferrari 512M was Maranello's exquisite and brutally effective weapon of that period and chassis 1002 was sold by the Factory to the Escuderia Montjuich in April 1970. The Escuderia was founded by four wealthy Catalan gentleman drivers in the mid 1960s; Enrique Coma-Cros (co-author of the book Ricart - Pegaso / La Pasión del Automóvil), Félix Muñoz (known as Pelé), José Juncadella and Juan Fernández.
The Ferrari has a truly wonderful period history, with imagery depicting it competing in the 1970 edition of 24 Heures du Mans, as car number 35 in the test and number 9 in the subsequent race, where it was piloted by José Juncadella and J. Fernandez. In that year, 1002 went on to compete at many more high-profile events, including the Jarama Twelve Hours and the 1000 Kilometres de Paris, held at the legendary Montlhéry Circuit. 1971 provided another raft of competition for 1002, taking part in the majority of the World Manufacturers' Championship rounds and the non-championship Buenos Aires 1000 kilometre race - where the car placed fifth driven by Juncadella and Pairetti. In April 1971 the car was returned to the factory to be converted to a 512M Berlinetta and in this new, improved guise, 1002 once again contested Le Mans, with Nino Vaccarella as one of the drivers. Unfortunately, 1002 retired at the fourteenth hour after holding an impressive fifth place in the previous hour. In 1971 the car also contested the Monza 1000 kilometre, the Imola 300 kilometre, Osterreichring and the 1000 Kilometre de Paris and the Tour de France.
1002 eventually found its way to a new owner, English gentleman and Ferrarist, Robert Horne, in October 1974. It has subsequently been prepared and lovingly maintained by specialist, Bob Houghton to this day. Horne decided to use the 512 to attempt a British Land Speed Record. In 1977, 1002 – driven by Derek Bell – was taken to a very credible speed of 192mph over a 'flying mile' to set a record. The car finally passed to the current owner in 2009, and in the capable hands of the current owner's son, 1002 was beautifully driven at a recent edition of the Le Mans Classic, where it showed that it has lost none of its period performance.
Chassis 1002 is, quite simply, a superb example of one of Maranello's finest sports competition cars. Absolutely steeped in history and provenance, it presents an extremely rare opportunity to acquire a 'best in class' 512 with the very finest of racing and ownership pedigrees. Presented with a remarkable history file and a Certificazione di Autenticita from Ferrari Classiche, 1002 represents a once in a lifetime opportunity to acquire a truly exceptional and seriously important 'time capsule' condition sports racing prototype. To step into the cockpit of 1002 is to step back in time to that glorious epoch of racing. How wonderful it would be for its new owner to take 1002 back to the Tour de France and the Le Mans Circuit. The stuff, we believe, that dreams are made of...
To see a film of this incredible car, please click here.