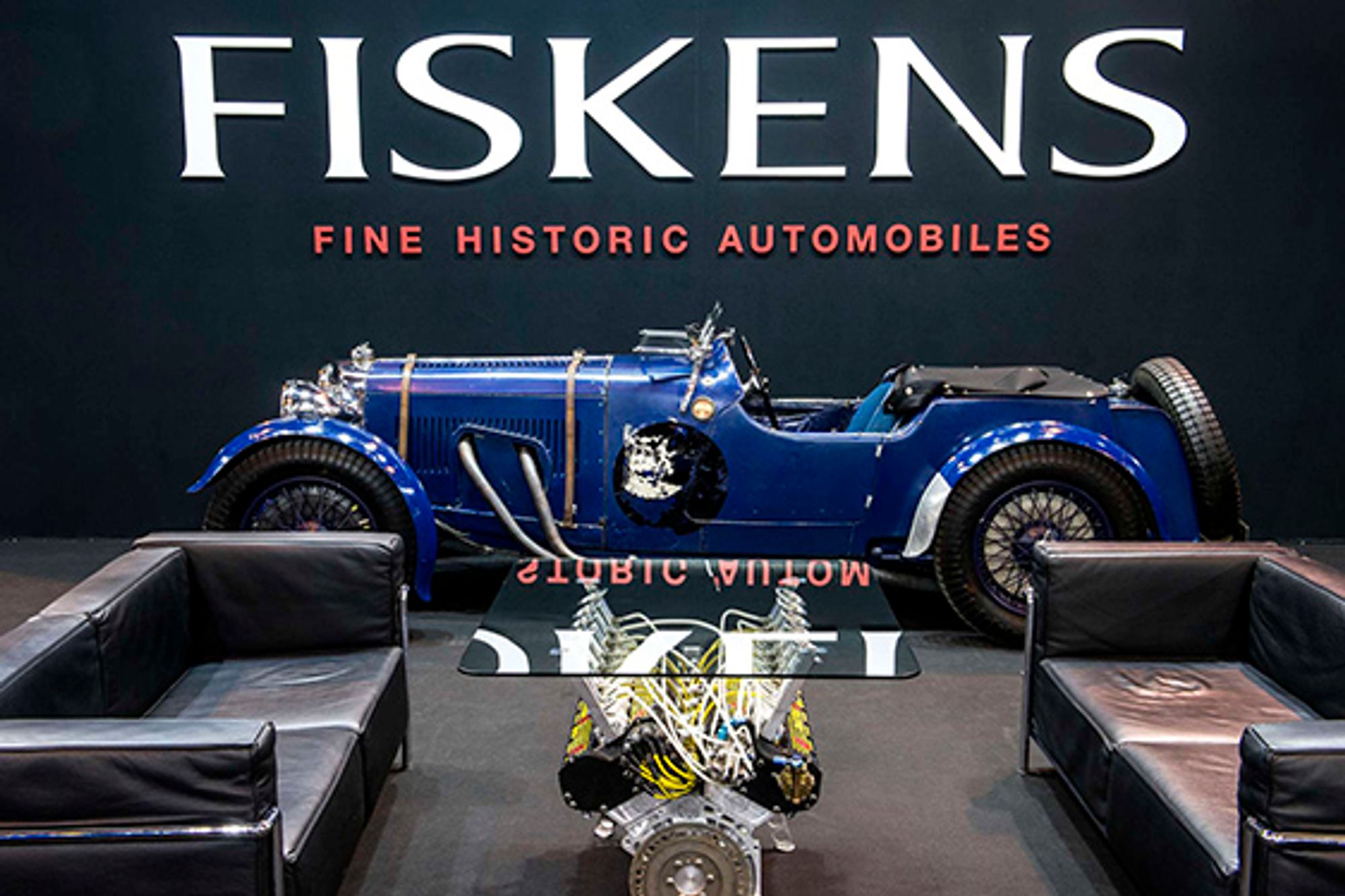 Fiskens, London's foremost historic automobile specialist, made its annual visit to the Salon Retromobile earlier this month, held at the Expo Porte de Versailles in Paris. This international show – renowned as one of the largest global events of its kind – celebrated its 40th anniversary this year, demonstrating its ongoing global appeal.
Of some 450 exhibitors present at this year's incarnation, Fiskens was one of the largest, presenting 15 historically important cars for sale to members of the public, media and historic car cognoscenti alike.
The diversity of machinery offered for sale by Fiskens ranged from the 2007 Le Mans GT1 class-winning Aston Martin DBR9 to Ettore Bugatti's very own 1924 Rolls Royce Silver Ghost, purchased as a muse during the creation of his own luxury car, the Bugatti Royale. Other notable pieces included a 1951 Ferrari 212 Export Barchetta – which boasts the joint honour of racing accolades in period with a starring role in 20th Century Fox's 1955 film, The Racers, of Kirk Douglas fame – and a 1960 Aston Martin DB4GT known to be one of the most successful competition examples of the model ever built.
Cars sold by Fiskens during and following this year's Salon Retromobile include the historically-important 2007 Aston Martin DBR9, a 1958 Ferrari 250GT California Spyder and a 1954 Pegaso Z102 Competition Coupé.
Fiskens' founder, Gregor Fisken, explains the on-going importance of Salon Retromobile to the company:
"For us, [Salon] Retromobile is the quintessential historic automobile exhibition. It is a chance to greet friends, both old and new, and to create a gallery of exquisite cars that hold appeal for all; from notable collectors with very specific and differing tastes to members of the public at large. Our commercial success at this year's event is, in part, testament to the power of Salon Retromobile in such a crowded marketplace. As always, we are delighted to welcome visitors to the Mews who were not able to travel to Paris earlier in the month, to view our wonderful Retromobile collection in person. We also have a number of new and exciting consignments in residence to tempt prospective buyers."
The company officially unveiled its new exhibition stand on the evening of 3 February at the show, which was met with much acclaim from clients, media and general onlookers. Copyright-free imagery from the event can be downloaded at
www.fiskens.com/multimedia
with kind permission of Tim Scott, Remy Dargegen and Riiko-Andre Nuud.