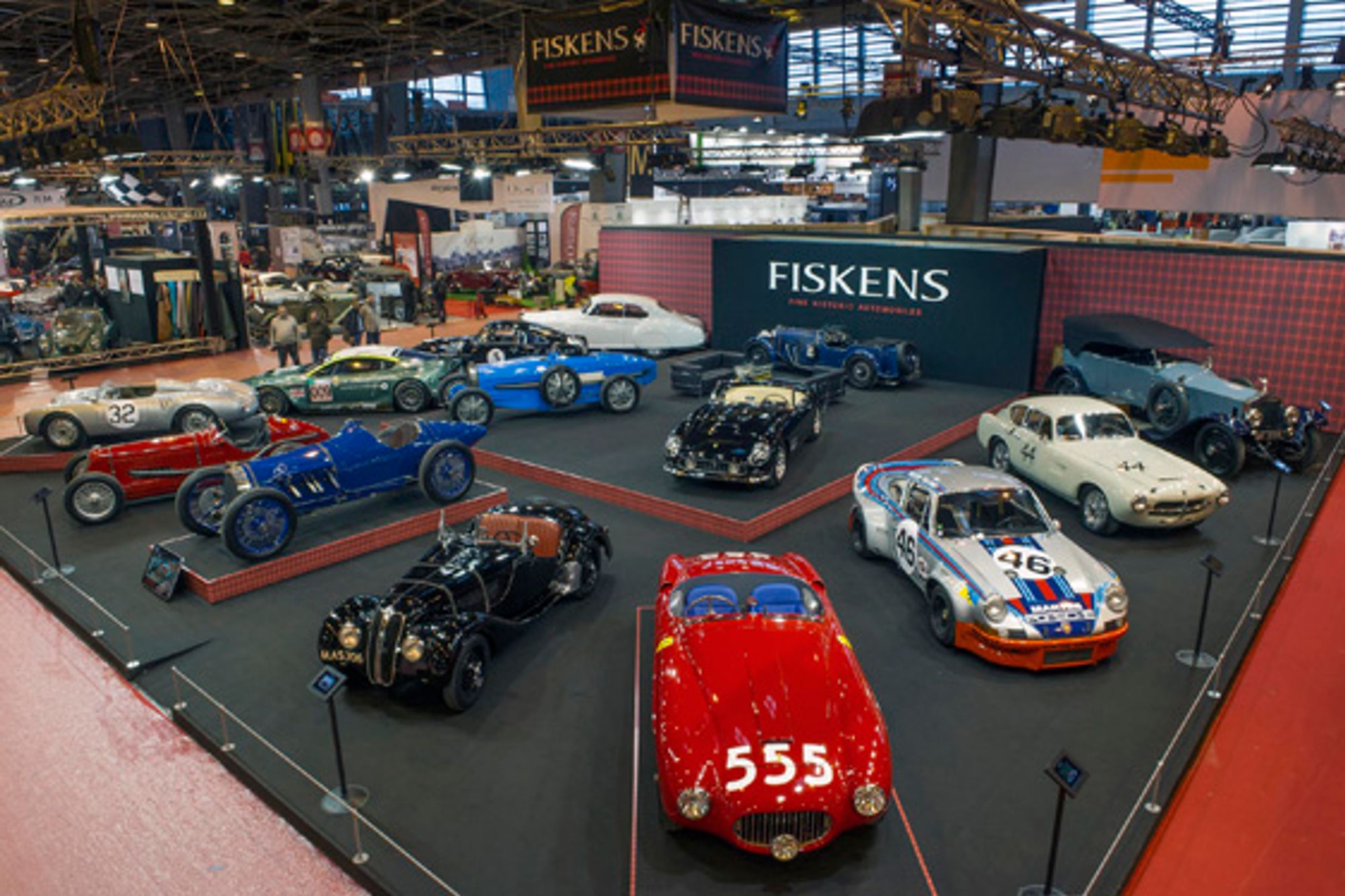 Fiskens maintained their tradition of opening Retromobile (February 4-8) in style earlier today when the covers came off the 14 highly significant automobiles that comprise their 2015 show inventory.
While their impressive new stand design (P63, Hall 1) won many admirers, it was nothing compared to the breadth of significant historic cars that adorn it. Indeed, London's foremost historic automobile specialists have once again assembled a collection of truly eye-catching consignments that perfectly emphasise the depth of Fiskens' market knowledge and reputation.
Undoubtedly one of the stars of this year's show, and certainly most popular with the gathered guests and media, is the unique Béquet Delage which, in 1926, had its powerplant replaced with a V8 aero engine from a French World War I fighter plane.
At the other end of the spectrum, but no less important, is the Aston Martin DBR9 that scored GT1 class victory at the 2007 Le Mans 24 Hours in the hands of David Brabham, Darren Turner and Rickard Rydell.
Ferrari aficionados will be delighted to see not one but two outstanding examples from the 1950s: a truly unique 212 Export and 250GT LWB California Spyder. The former is something of a curiosity having been re-styled from Touring Barchetta to fit the plot of 1955 Hollywood film, The Racers, which is loosely based on the life German grand prix legend Rudolf Caracciola.
Meanwhile, visitors won't fail to be won over by the ex-works Porsche 550A Spyder that not only finished fifth at the 1958 Le Mans 24 Hours – the model's best ever result there – but also holds the accolade of being the only 550A to compete in a Formula 1 race.
And continuing the Porsche theme, Fiskens are proud to display none other than the ex-Martini and Rossi ex-works RSR that achieved fourth overall at the 1973 Le Mans 24 Hours.
Fiskens' complete 2015 inventory can be viewed below. For full details on each car please visit our Showroom.
1924 Béquet Delage
Aero-engined pre-war GP racer
Having competed as a 2LCV Grand Prix car, this Delage was subsequently gifted to aviator Maurice Béquet who swapped its original 2-litre powerplant for a V8 aero engine. The car went on to contest the 1926 Grand Prix de la Baule where it finished a charging third despite initially falling four laps down!
2007 Aston Martin DBR9
Chassis: 10
This, the 2007 Le Mans 24 Hours GT1 class-winning chassis, was retired after the race and has been on display at the marque's Heritage Centre ever since. Uniquely, it was the first Aston to triumph at Circuit de la Sarthe since the DBR1's famous outright victory there almost 50 years earlier.
1958 250GT LWB California Spyder
Chassis: 1011 GT (Tipo 508D)
This example was the 10th of 14 cars made in 1958 and features the 7x32 rear axle ratio, which was fitted to several cars in that year to produce the maximum acceleration from a standing start. Right from birth, 1011 GT was designed to invite maximum attention.
1951 Ferrari 212 Export
Chassis: 0102E
What started life as an early example of Ferrari's 212 Export is now better known as the unique 'Burano' that starred in 20th Century Fox's 1955 film, The Racers. Featuring a lengthened nose, lowered rear panels and dramatic side pipes, this is a successful competition car disguised as a Hollywood icon.
1957 Porsche 550A Spyder, ex-works
Chassis 0145
On the right circuits and in the right conditions these remarkable sports racing Spyders could and did achieve outright success. Chassis 0145 is living proof of this fact, having finished fifth overall at the Le Mans 24 Hours in 1958 under the racing number '32'; the best-ever result at Circuit de la Sarthe for a 550A Spyder.
1924 Rolls-Royce Silver Ghost, Tourer Million Guiet
Chassis: 2AU
This particular Silver Ghost holds a significant place in the history of not one but two marques: Rolls-Royce and Bugatti. It was purchased after being displayed in the Paris Salon in 1926 by Ettore Bugatti, who sought inspiration for his soon-to-be conceived luxury car, the Royale. The Bugatti family kept the Silver Ghost until the 1960s when it changed hands from Maurice Trintignant to Count Chandon and latterly joined the collection of Formula 1 ace Jean Alesi.
1931 Bugatti Works T54
Chassis: 54201
Chassis 54201 was the first of the 4.9-litre twin overhead cam supercharged straight-eight cylinder Type 54s to race at a Grand Prix and remains the only one not to be subsequently modified by the Mosheim factory. It features the original engine and gearbox position, and accompanying tall body and bonnet.
1933 Aston Martin Le Mans 2/4 short chassis
Chassis: F3/274/S
This highly original example of Aston's fabled Short Chassis Le Mans has a glorious and extensive competition history, and remarkably few owners from new.
1934 Maserati 8CM
Chassis: 3009
A well-known example of one of Maserati's fabled eight cylinder Grand Prix cars, it is offered for the first time in over 40 years by the family of one of the world's foremost Maserati exponents and comes with invitations to attend the 73rd Members' Meeting at Goodwood and the Cholmondeley Pageant of Power. Supplied with full FIA papers.
1937 BMW 328
Chassis: 85038
The 328 was an extravagant tour de force for BMW, resulting in a project that famously made no profit for the German marque pre-war. However, it quickly acquired a reputation as the fastest production sports car in the world.
1952 Bentley R-Type Continental Fastback Sports Saloon by H.J. Mulliner and Company
Chassis: BC7A
The seventh of 193 R-Types built by H.J. Mulliner and one of just 25 'A-series' cars, the R-Type Continental is often bestowed with the accolade of the most desirable post-war Bentley. This particular example also graced the Bentley Motors exhibition stand at the London Earls Court Motor Show in 1952.
1954 Pegaso Touring Berlinetta
Chassis: 0102.150.0156
It is reputed that no expense was spared in creating the Z-102 which – as well as being technically advanced for the time – is acknowledged as the fastest production car sold in 1953. This particular example was originally produced to Le Mans competition specification and is fitted with the bigger option 3.2-litre engine.
1960 Aston Martin DB4GT
Chassis: DB4/GT/0137/R
0137 features arguably one of the most comprehensive and successful competition histories of any DB4GT produced and has been a regular and front-running entrant at Aston Martin Owners Club events almost every year since its racing career began in 1966.
1973 Porsche 3.0L RSR Prototype, ex-works
Chassis: R7
The works entry for the 1973 Le Mans 24 Hours where it finished fourth overall wearing the iconic Martini colours. Arguably one of the most original and important works RSRs in existence, we are proud to exhibit this car as a forthcoming consignment to Fiskens for Spring 2015.