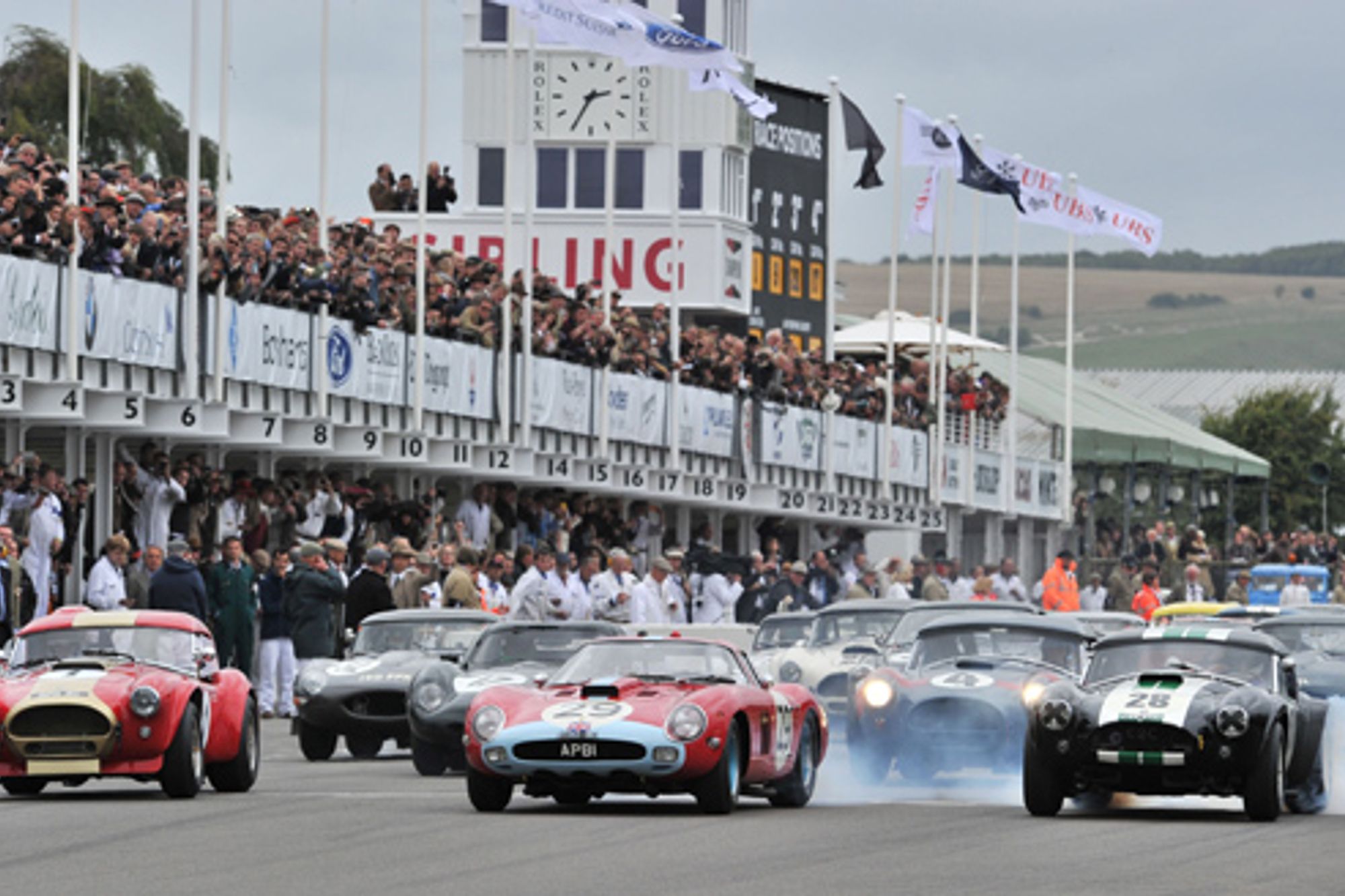 Gregor and Rory to contest RAC TT Celebration race
Lister-Jaguar Costin and Sunbeam Tiger LM Coupe available at the Mews
A magical step back in time awaits Fiskens this weekend (September 12-14) when London's foremost historic automobile specialists make their annual trip to Goodwood Revival in West Sussex for three days of period motor racing, as well as socialising with friends and clients alike.
The world's greatest retro motorsport and social event is the perfect opportunity for the Fiskens team to mix business and pleasure, with Dylan catching up with customers old and new in the paddock while both Gregor and Rory make appearances behind the wheel.
They might be colleagues, but the pair will be fighting hard on track when both take part in the event's blue riband RAC TT Celebration race on Sunday. Gregor is once again joined by Peter Hardman in the significant ex-Dick Protheroe 'CUT 8' Jaguar E-Type Coupe, while Aston Martin Racing factory driver Darren Turner is alongside Rory in his father's famous ex-12 Hours of Sebring AC Cobra.
Gregor will also have an opportunity to get his eye in on Saturday when he contests the all-Jaguar D-Type Lavant Cup race in the ex-Joaquin Palacios pastel blue example.
Meanwhile, the Goodwood bug has also bitten Fiskens' Kensington Mews with the arrival of two very special classic competition cars perfect for the 2015 Revival.
Indeed, the Lister-Jaguar Costin currently in residence actually raced there in the 1961 Whitsun Trophy after scoring national victories, competing at the Le Mans 24 Hours and even starring in MGM's, The Green Helmet. In later life it has appeared at the Goodwood Revival and Le Mans Classic, and represents a fantastic opportunity to enter the world's greatest historic meetings. Indeed, it would be highly eligible for Goodwood's Sussex Trophy, which this year races into Friday evening.
Alongside it is an exceptionally rare Sunbeam Tiger Le Mans Coupe, the first of just three lightweight examples built by the factory in 1964. As the name suggests, it was designed to contest the GT category at Circuit de la Sarthe and tested there ahead of the '64 event before entering into private hands. It too signifies an important competition sportscar that's eligible for Goodwood Revival's RAC TT Celebration race.
"This is my favourite period in the classic car calendar," explained Gregor Fisken. "There have been a lot of events in and around London recently, and we've certainly been very busy with Salon Privé and the Hampton Court Concours of Elegance, but Goodwood Revival is always a personal highlight and only just down the road from our London Mews. Everything about the event is special and it offers a wonderful opportunity for everyone to catch up. Plus, I'm really looking forward to racing Rory on Sunday. Just as long as he remembers who pays his wages!"
While Goodwood Revival remains the immediate priority, Fiskens already has one eye on the following weekend when Gregor and Rory will share an original Ford GT40 in the Spa Six Hours (September 20/21).