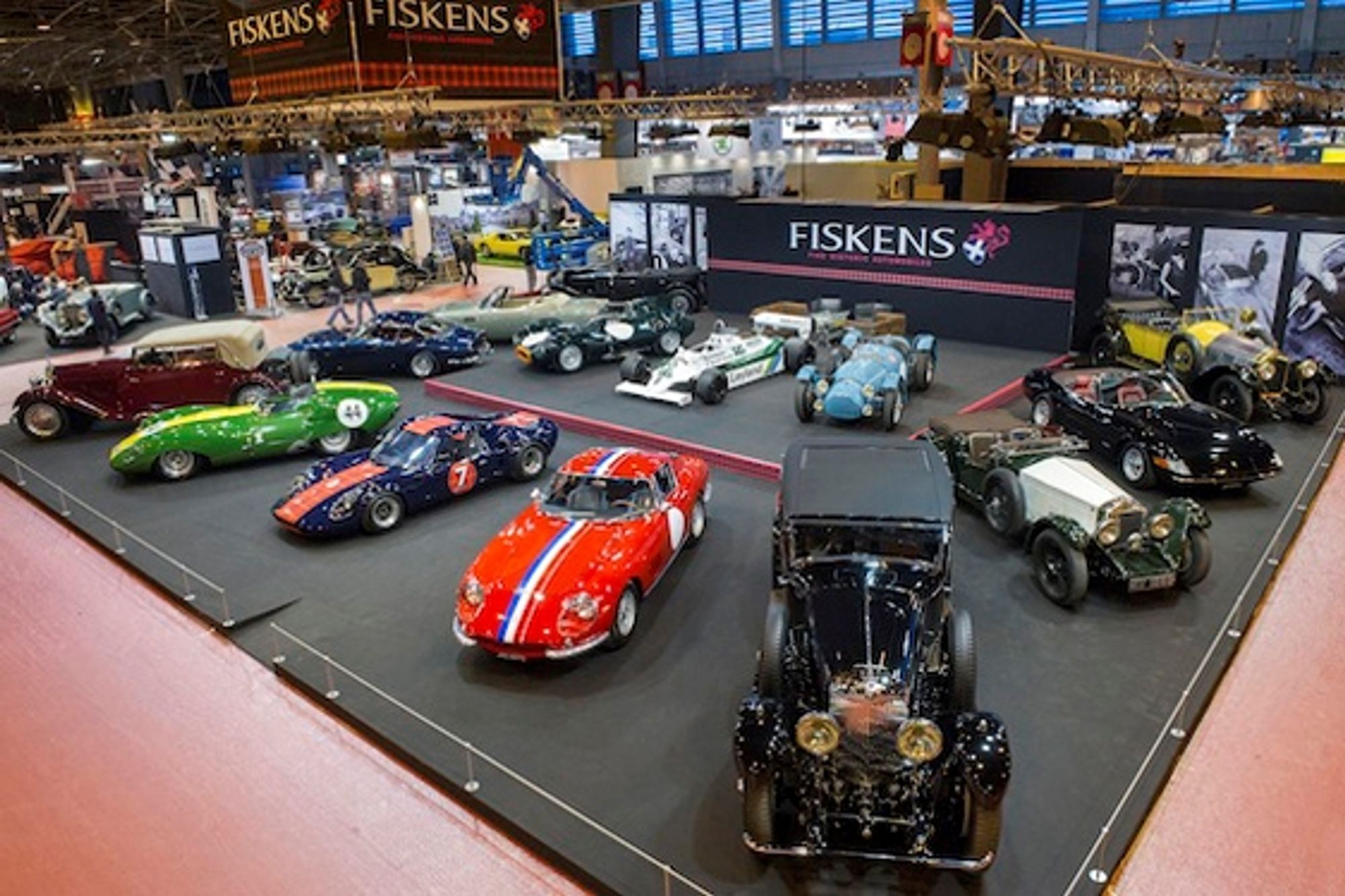 Fiskens have marked the opening of this year's Retromobile show in Paris by unveiling their most impressive collection to date, with a total of 14 rare automobiles now on display at their stand (P63, Hall 1).
A microcosm of 20th century motoring, it demonstrates the depth of Fiskens' market knowledge and continues their tradition for consigning only the most eye-catching and unique pieces of automotive history. Indeed, the oldest of this year's collection, a Turcat-Méry Boulogne Roadster, can trace its lineage back to before the Great War.
Aficionados will also be drawn to W.O Bentley's beloved 8 Litre, which offers a glimpse into a very different era of motoring, and a Williams FW07 that enjoys a fine competitive pedigree, having tasted grand prix victory during the 1981 season.
What's more, Fiskens is immensely proud to display a Talbot Lago T26 GS, which they are offering for sale following an extraordinary 56-year ownership.
The complete 2014 inventory can be viewed below. For full details on each car please visit our showroom
1913 Turcat-Méry Model MJ Boulogne Roadster
Chassis: 1103
Built in 1913, this Turcat-Méry Model MJ Roadster is believed to be one of very few surviving examples. Now in its second century, this extraordinary motor car stands as testament to the quality of vintage-era craftsmanship and educated owners.
1955 Jaguar D-Type
Chassis: XKD545
With three consecutive wins at Le Mans and over 150 international victories, the Jaguar D-Type is arguably Britain's greatest racing export. Chassis XKD545 was completed in 1955 as a 3.4-litre, short-nose customer-spec car and represents a fantastic opportunity to join the exclusive club of D-Type owners.
1981 Williams FW07C/D
Chassis: FW07D-16
Designated chassis number 16, this FW07 was built in time for the 1981 Formula 1 season and appeared at six championship races in the hands of Alan Jones. The Australian recorded three podium finishes, including a famous victory at the US Grand Prix in Las Vegas.
1950 Talbot Lago T26 GS
Chassis: 110057
This Talbot Lago T26 GS (chassis 110057) contested the 1951 Le Mans 24 Hours with Juan-Manuel Fangio among its drivers and the following year's Monaco Grand Prix. Offered following an extraordinary 56-year ownership, it is eligible for all of the finest historic events.
1971 Ferrari 365 GTS/4 'Daytona' Spyder
Chassis: 14415
This left-hand drive Daytona Spyder (chassis 14415) is one of only 18 produced to European specification. A fully matching-number, Classiche-certified car, it represents a rare opportunity to attain a Ferrari appealing to collectors, drivers and aesthetes.
1959 Lister Jaguar Costin
Chassis: BHL3
Originally a 1958-spec works 'Knobbly' Lister-Jaguar, BHL3 was subsequently rebuilt to the more aerodynamic 1959 Costin specification. A Le Mans 24 Hours entrant that year, it later starred in MGM's The Green Helmet.
1931 Bentley 8 Litre
Chassis: YF5015
While the 8 Litre is sometimes said to be the car W.O. Bentley was most proud of, few doubt that it was what finally bankrupt the business. Benefitting from careful custodianship, YF5015 has remained in terrific condition and recently enjoyed a world-class restoration.
1963 Ferrari 250 GT/L 'Lusso'
Chassis: 5851 GT
Arguably the finest Ferrari 250 Grand Tourer, the 250 GT/L 'Lusso' aimed to provide occupants with a sense of luxury. Presented in largely original condition, 5851 has Ferrari Classiche certification and combines low ownership, originality and a wonderful patina.
1930 Bugatti Type 46 S
Chassis: 46525
Although affectionately known as the 'Petite Royale', nothing about the Type 46 Bugatti's 5,359cc straight-eight or 3.5-metre wheelbase chassis was small. The car proudly offered by Fiskens (chassis 46525) is one of the ultra-exclusive S models.
1965 Ferrari 275GTB/2 Long-Nose Alloy
Chassis: 08061
A successor to the 250 GTO in both spirit and style, many enthusiasts view the Ferrari 275 GTB as the pinnacle of '60s Maranello motoring. Ideal for gentlemen privateers and enthusiastic drivers, it is regarded as a prized addition to any significant collection.
1966 Aston Martin DB6 Short Chassis Volante
Chassis No: DBVC/2325/R
The quintessential British GT car is best exemplified by Aston Martin's legendary DB series, particularly in its glamorous convertible form. As the rarest of all Dropheads, this short-chassis Volante offers a spirited and stylish open-air motoring experience.
1928 Bentley 4 ½ Litre Tourer by Harrison
Chassis: ST3010
The short-chassis 4 ½ Litre is widely regarded as the best-handling vintage Bentley. Only the tenth of its kind built, ST3010 was finished in 1928 with a four-door tourer body by Harrison.
1932 Invicta 4 ½ Litre Low-Chassis S-Type by Carbodies
Chassis no: S106
Challenging the more established marques with its innovation and design, the 4 ½-litre low-chassis S-Type Invicta is regarded by many as one of the great pre-war sportscars. A recent inspection by specialist David Ayre showed S106 to be in excellent mechanical condition.
1968 Chevron B8
Chassis DBE52
Chevron B8s are widely regarded as among the most beautiful and best-handling sports racing cars ever produced. Fitted with a Lester Owen-supplied engine, DBE52 is ready to race and complete with current FIA HTP papers.
For information regarding Retromobile, please visit www.retromobile.fr