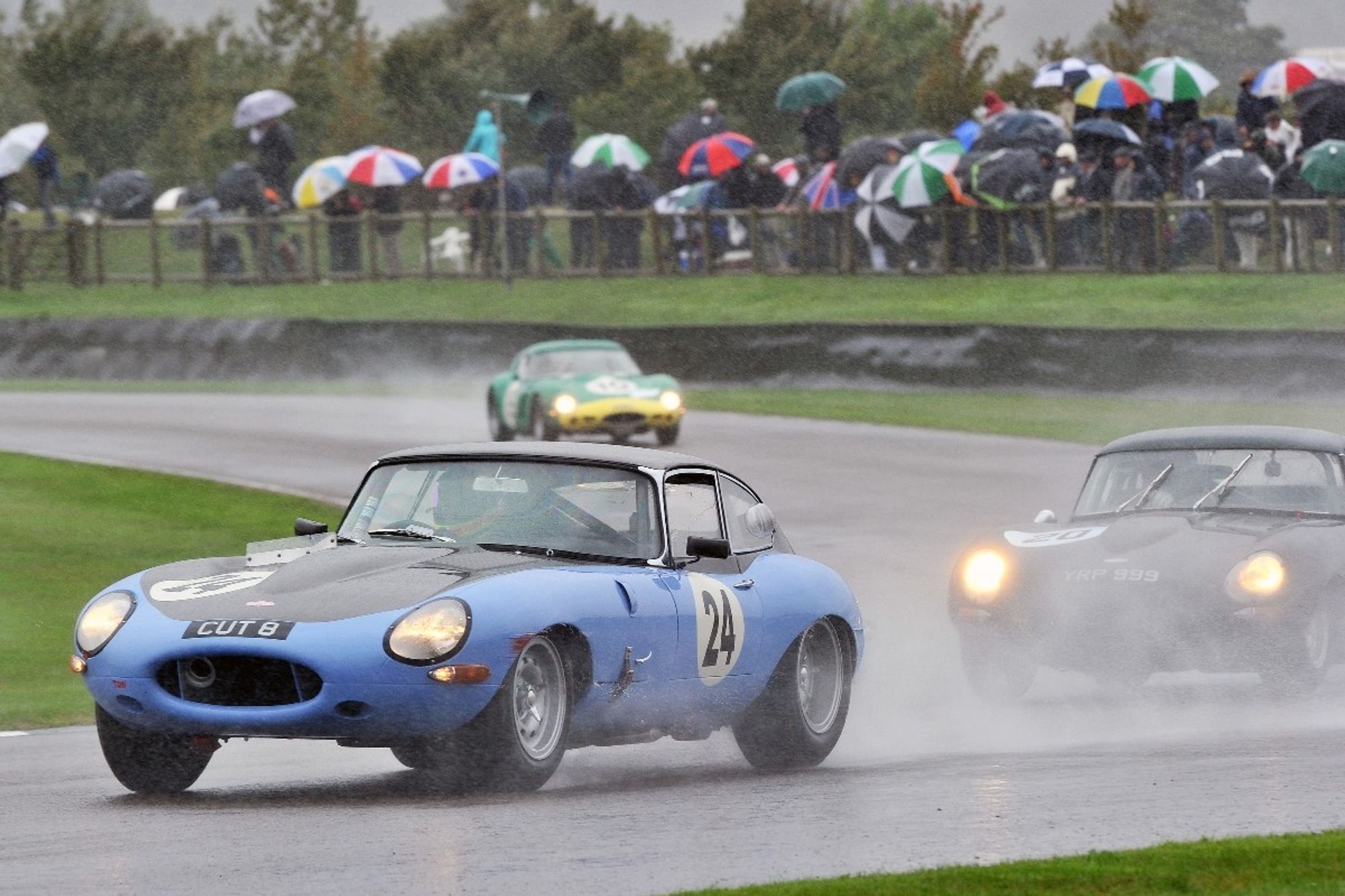 Following an action packed summer season at Queens Gate Place Mews, it seems a good time to update our friends and clients on the recent developments at Fiskens as an equally eventful autumn begins.
As always the Goodwood Revival is the highlight of the historic racing calendar. This year, both Gregor and Rory were honoured to participate in the event's famed RAC TT Celebration. Gregor was thrilled with the opportunity to put the ex-Protheroe 'CUT 8' Jaguar E-Type through its paces alongside experienced sportscar ace Peter Hardman. Recently acquired by Fiskens for a long-standing client and restored to its striking period livery, 'CUT 8' not only proved a crowd favourite but also finished 7th overall with further potential to come!
Gregor was doubly fortunate as he was also invited to pilot a very famous and original long-nose Ecurie Ecosse Jaguar D-Type "XKD 603" on behalf of a good friend and client. The sight of such an important car being driven as it was intended proved a spectacle for all to enjoy.
Meanwhile Rory took the wheel of the famed ex-Sebring AC Cobra, sharing with double Le Mans winning Aston Martin works driver Darren Turner. Those present will remember the very testing monsoon conditions! It was no mean feat that both cars crossed the finish line!
Please click here to view Fiskens' full Goodwood Revival gallery.
Will Stone
After over 17 years working with Gregor, Will has sadly decided to leave Fiskens to set up his own business.
Will said: "It has been an incredible experience for me to have worked here at Fiskens and I have been so lucky to have dealt with some of the world's greatest cars. The future is very exciting and I look forward to carrying on working within this wonderful field."
Gregor added: "I would like to thank Will sincerely for all the hard work he has put into his career here at Fiskens and the wonderful support he has given to myself and others in the company, as well as his great humour and friendship. I will be sad to see Will leave the Mews but I can appreciate his desire to follow his own path. I know that the high esteem in which he is held by myself and all those who have dealt with him here at Fiskens will serve him well and I wish him all the best for the future!"
Meanwhile, after more than two years as Showroom Manager Rory Henderson has been formally promoted to join Dylan Miles as Sales Executive.
Finally, we are delighted to welcome Sophie Dawes to the team. Sophie joins as office manager having worked for a leading Kensington estate agent for nearly five years and is now enjoying the excitement of her first role within the historic car world. The rise of these young, enthusiastic and knowledgeable individuals makes this an exciting time for Fiskens as we look to continue and build upon the success that the company has enjoyed for the past two decades.
Client Acquisition
Some of the fine historic automobiles to have recently been acquired for clients include a wonderfully original barn-find Mercedes 300SL Gullwing, a historic ex-Brooklands Bentley 4.5 Litre, a highly original right-hand drive Lamborghini Miura S, a gorgeous Alfa Romeo TZ and an exceptional sports-racing Maserati 200S.
This represents a snippet of the automobiles that have passed through our famous Mews showrooms over the summer months. As ever, plenty more have also found new custodians prior to reaching the open market.
This flurry of sales means we are now seeking new consignments for the autumn and winter months. With the industry proving so buoyant we are keen to hear of your requirements, so should you or anyone you know be interested in a consignment or confidential appraisal with no obligation, please do not hesitate to contact our team at Queens Gate Place Mews.
We have a number of exciting new consignments to announce in the coming weeks, so please keep an eye on our website for further information. In the meantime, coming soon, we are excited to present this wonderful Maserati 150S.
Image copyrights: Tim Scott (Fluid Images) and Simon Clay