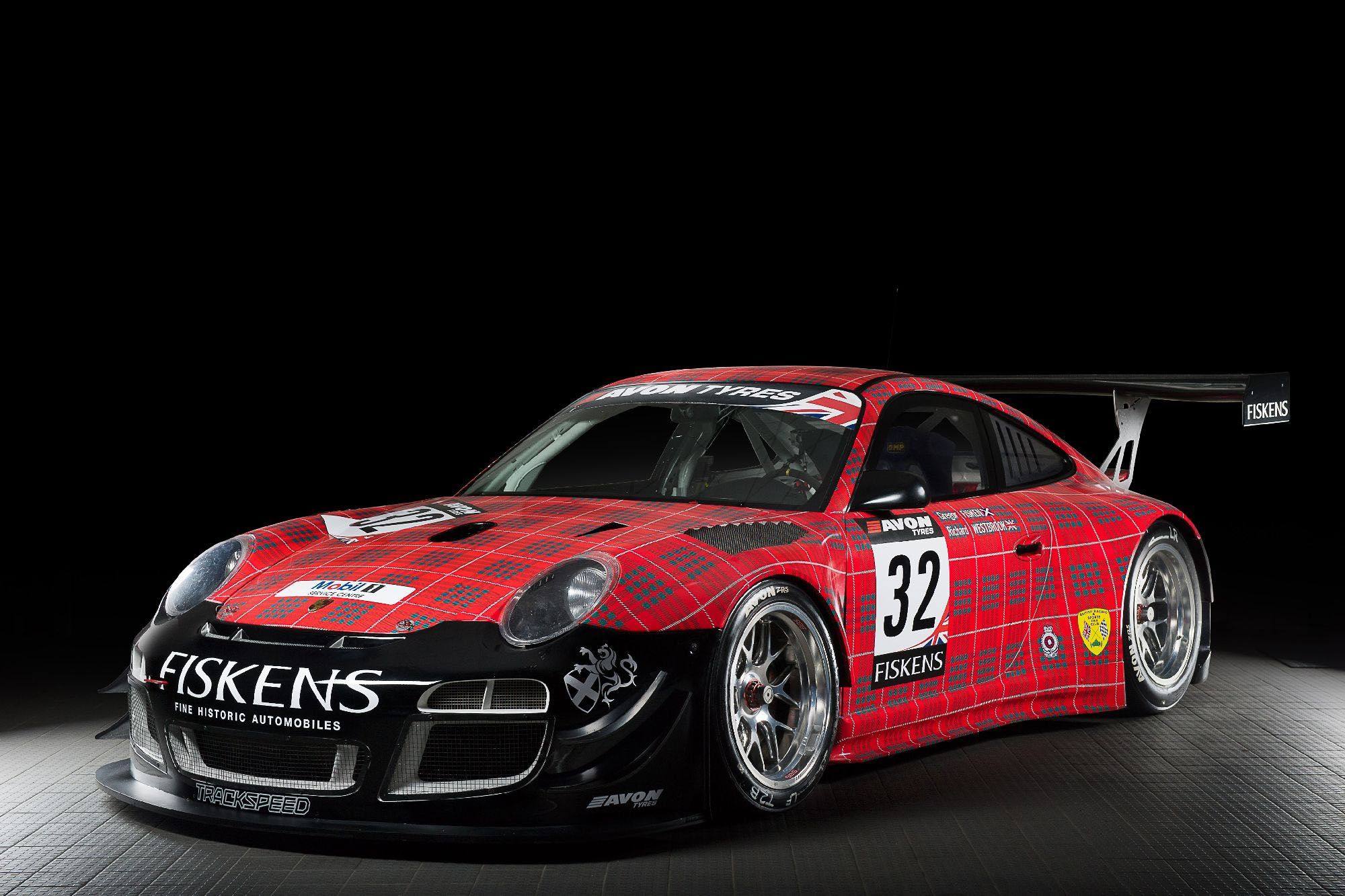 Gregor Fisken takes to the grid for the season-opening British GT Championship event at Oulton Park this Easter Weekend (1 April) with his colours firmly nailed to the mast thanks to a striking Fiskens 'art car' livery inspired by his family's Frazer Red tartan.
Experienced modern and historic racer Gregor returns to the ultra-competitive series this year alongside team-mate Richard Westbrook aboard a Trackspeed-run Porsche 997 GT3-R. A race winner with the team in 2011, he will now hope to collect further silverware in his eye-catching new design.
The livery follows in a tradition of aesthetically unique racing Porsches that includes the stunning 'psychedelic' 917s – an example of which Fiskens had the privilege to sell – and the infamous 'Pink Pig' 917 that competed at the Le Mans 24 Hours in 1971.
Indeed, Fiskens enjoy a strong relationship with the Stuttgart firm both on the circuit and in the showroom. Gregor has campaigned Porsches at Le Mans as well as in British GT, while several highly significant examples have passed through the company's Kensington Mews, including an iconic Gulf-liveried 917.
Having already sold both an exceptionally original 1973 Porsche 911 2.8 RSR and a Viper Green 1972 Porsche 911 2.7 RS in 2013, the newest arrival at the showroom is a much sought-after first series 1973 Porsche 911 2.7 RS Touring finished in its very cool original 'Light Yellow' colour scheme.
As for the freshly painted Fiskens Porsche, all that remains is for it to receive a suitable nickname to carry into battle. Suggestions both serious and tongue-in-cheek (the Tartan Terror has emerged as an early front-runner) will be very welcome as Gregor and Richard prepare for the season ahead.
Gregor Fisken: "It's great to finally take the covers off our new livery and to have the chance to earn a place among the great Porsche art cars. It's a lot of fun to do something different while also paying tribute to Fiskens' Scottish heritage and our company colours. I've always been a fan of the art car concept, so when the idea came up to run one I was immediately on board. The result is very striking and should give my competitors a real scare when they see it looming in their mirrors!
"Ultimately I hope that the Fiskens car will not only distinguish itself on-track but also leave a lasting impression on spectators, as it's the fans who can keep alive the memory of an iconic livery long after a car has run its final race."
For further images of the Fiskens Art Car Porsche, click here
Mallory Park
As some of you may know, Mallory Park Circuit is having problems with local residents objecting to noise levels and the company that runs it saying they cannot continue in business if they are limited to the number of uses a year that the County Council intends to impose upon them. If they cannot use Mallory as a race circuit then sale for housing is the likely outcome. If you would like to support the venue, we suggest you sign this Government e-petition – if it gets to the magic 100,000 signatures it will have to be debated in parliament. Please click here to view the petition.
Photos courtesy of Tim Scott of Fluid Images