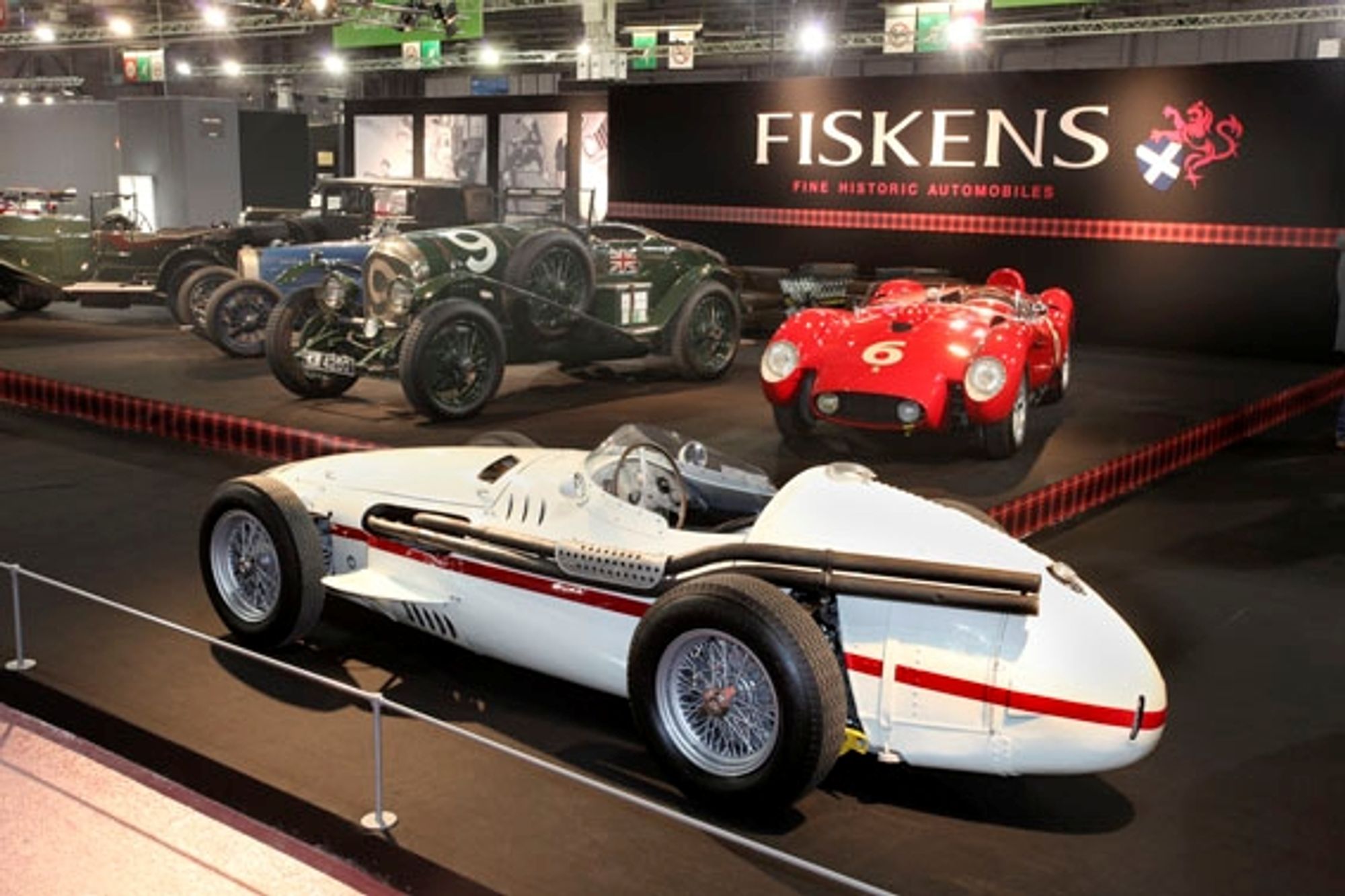 The covers are off! This morning at 8am local time Fiskens proudly unveiled another outstanding collection of rare automobiles at the 30th annual Retromobile show in Paris where no less than nine rare competition and production cars will be offered for public sale. In total 11 cars grace the largest stand of any UK exhibitor at the event.
Indeed, some of those featuring in the line-up presented by London's foremost historic automobile specialists have not been offered on the open market in a generation, ensuring there will be much interest in the examples on display.
While the full 2013 inventory can be seen below, some of the highlights include a 1966 Ferrari 275 GTB Competizione that contested the Le Mans 24 Hours on three occasions and a highly original Grand Prix Bugatti Type 37A. Britain is also well represented with a stunning Aston Martin DB3S and aluminium-bodied Austin Healey 100S racer both making the cross-channel trip to Paris. Three Bentleys also join them, amongst which is a 1926 Le Mans entrant.
Aside from the examples on sale, the Fiskens stand will also be home to a pair of Italy's greatest and most iconic racing cars of the 1950s. The first, a Ferrari 250 Testa Rossa (chassis 0716 TR), was secured for an American client a few years ago and is making a brief stop in Paris before continuing on to Maranello for factory certification. The other, a Maserati 250F (chassis 2521) claimed five Formula 1 world championship podium finishes in the capable hands of Jean Behra throughout 1956, before playing a starring role in the film Ein Engul auf Erden (Highway to Heaven) three years later.
Fiskens' large exhibition space will once again be located on stand J91 in Hall 3 throughout the five-day event, which takes place at the Paris Expo Porte de Versailles centre from 6-10 February.
1926 Bentley 3-litre Super Sports
Ex-'Scrap' Thistlethwayte 1926 Le Mans entry, 'Number Nine'
Chassis: 1179
A special order car for Tommy 'Scrap' Thistlethwayte featuring a unique Martin Walter body. Not only does it remain one of the most original vintage Bentleys in existence but also the only 100mph Super Sports to have competed at Le Mans.
1956 Aston Martin DB3/S
Chassis: DB3S/115
One of the twenty production cars built by the factory, 115 was delivered to Joe Lubin in 1956 and made its racing debut at Bakersfield on 20th May. Painted in the distinctive American racing colours of white with a blue stripe, 115 quickly established itself as the most recognised of all the competition cars in the thriving California race scene.
1927 Bugatti Type 37A
Chassis: 37283
Driven by second owner Alex Paul and his wife on an epic 4,000km tour of France in 1938, and with one long-term owner for over 60 years, this Bugatti Type 37 is certainly one of the most original and probably last unrestored example in the world.
1926 Bentley 3-4.5-litre
Chassis: NR 507
Originally supplied in 1926 to Mr E. Gordon Craig, chassis NR 507 is a Speed Model that sports the same four-seat touring coachwork by Vanden Plas that it retains today. Fitted in 1953 with a 4.5-litre engine, this fabulous vintage Bentley has been in long-term ownership for 36 years.
1973 Porsche 911 RS Touring
Chassis: 911 360 1215
Recently the subject of a complete bare-metal repaint and comprehensive gearbox overhaul, this fabulous example of the fabled 911 2.7 RS Porsche, unparalleled as a dual-purpose road and track car, is ready to be used and enjoyed by its next custodian.
1930 Bentley 4.5-litre Sports Saloon
Chassis: FS 3615
FS 3615 is the last known surviving example of an original Freestone & Webb Weymann Sports Saloon on the ultimate late specification, heavy crank and chassis frame 4.5-litre.
1966 Ferrari 275 GTB/C
Ex-Scuderia Filipinetti; 3x Le Mans entry; Le Mans, Spa & Imola class winner
Chassis: 9079
Originally delivered to Georges Filipinetti, owner of the famous Swiss-based Scuderia Filipinetti racing team, 9079 was entered in the 1967 Le Mans 24 Hour race where it crossed the line 11th and won its class outright. Further class victories followed in 1969 at both Spa and Imola.
1955 Austin Healey 100S
Chassis: AHS 3603
Exported to the US and raced in California, this very original 100S has been campaigned by its current owner all over Europe.
1965 Iso Bizzarrini A3/C
Le Mans Class Winner, Chassis: 0222
Chassis 0222 was the Bizzarrini works entry for the 1965 Le Mans 24 Hours where it claimed ninth overall and won its class outright. Since then it's been successfully campaigned in historic events, including the Le Mans Classic, Monterey Historics and Sebring, as well as many others all over Europe.