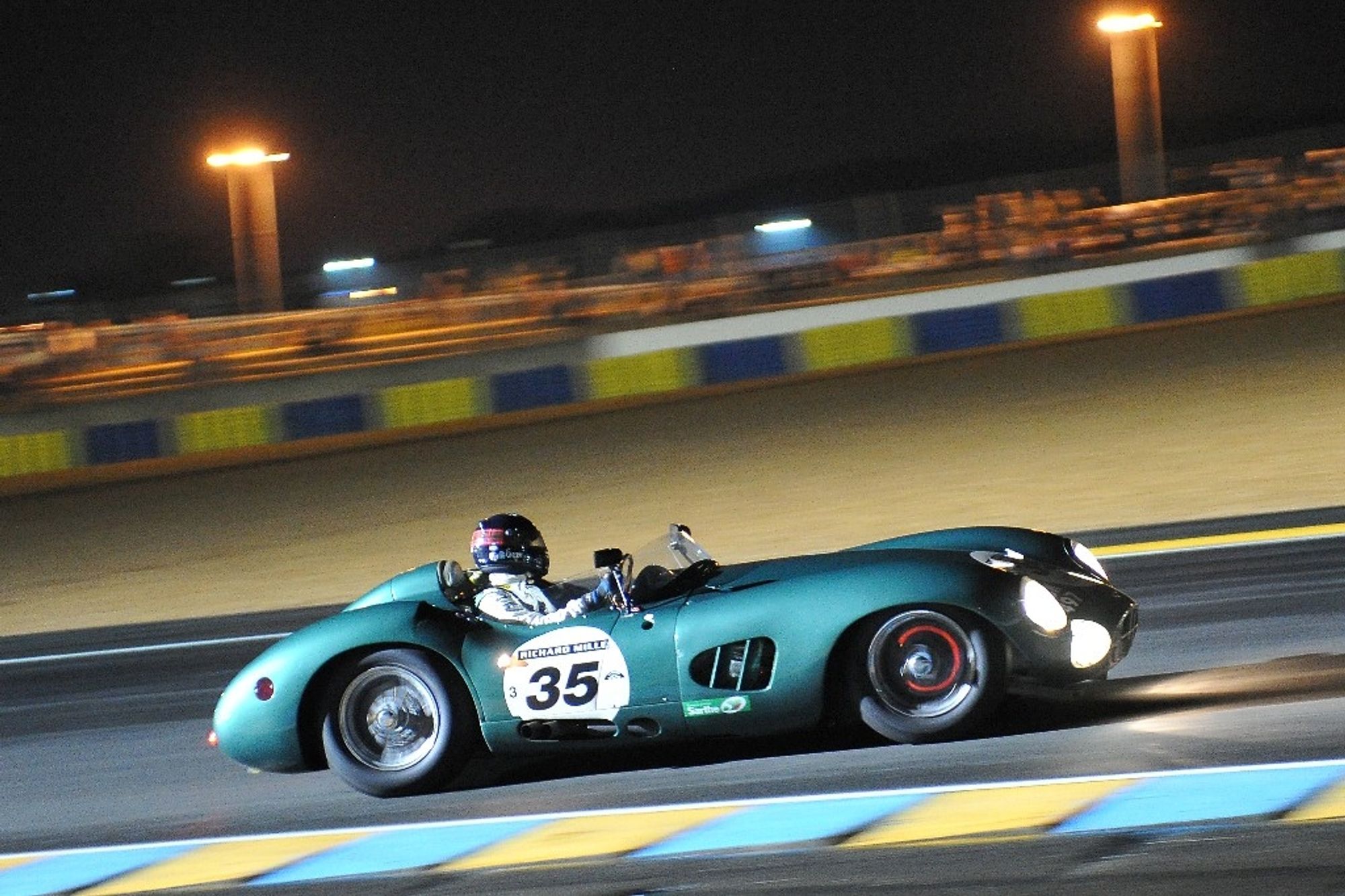 Gregor Fisken ensured that the Le Mans-winning Aston Martin DBR1 delivered a fitting tribute to its victorious '59 crew by bringing the car home second overall in the Le Mans Classic's race for 1957-61 sportscars last weekend.
Although the car seldom fails to steal any show, this year its appearance was even more poignant following the recent passing of its three key protagonists: Carroll Shelby and Roy Salvadori who recorded Aston Martin's only victory at La Sarthe 53 years ago and the DBR1's designer, Ted Cutting.
Having already spent much time behind the wheel of the Leventis family-owned DBR1, Gregor – who runs London's foremost historic automobile specialist Fiskens – was once again entrusted to race the car at Le Mans where he has made previous appearances in both the contemporary 24 Hours and Classic driving Aston Martins.
Last weekend's changeable weather saw each of the category's three races held in different conditions. Not that it bothered Fisken who, having qualified seventh, revelled in Saturday night's combination of heavy rain and darkness to bring the DBR1 home third overall.
The Scot was on the move once again on Sunday morning when, amongst some of the slipperiest track conditions he could remember at Le Mans, Fisken finished fourth after starting fifth.
The sheer volume of water that had fallen at Le Mans over the weekend was beginning to take its toll on the Aston's electrics however and, having suffered from an intermittent ignition problem during the opening laps of the afternoon's final race, it was forced into the pits for an early stop.
A superb effort though from Tim Samways and his team saw the issue remedied in no time, allowing Gregor to continue setting fast lap times and a top speed in excess of 160mph from Mulsanne to Indianapolis en route to second on the road and runner-up in the combined classification.
Gregor Fisken: "It's been an honour and a privilege to drive the DBR1 this weekend. Its history alone is incredible but when you consider the recent passing of Carroll Shelby, Roy Salvadori and Ted Cutting then it really does make driving the car here feel even more special. For me, it's the best front-engined sportscar of its era to drive, and of course it looks just fantastic. It ran faultlessly in the first two races that were held in very tough conditions so perhaps, on this weekend of all weekends, we earned that good fortune in the final race."