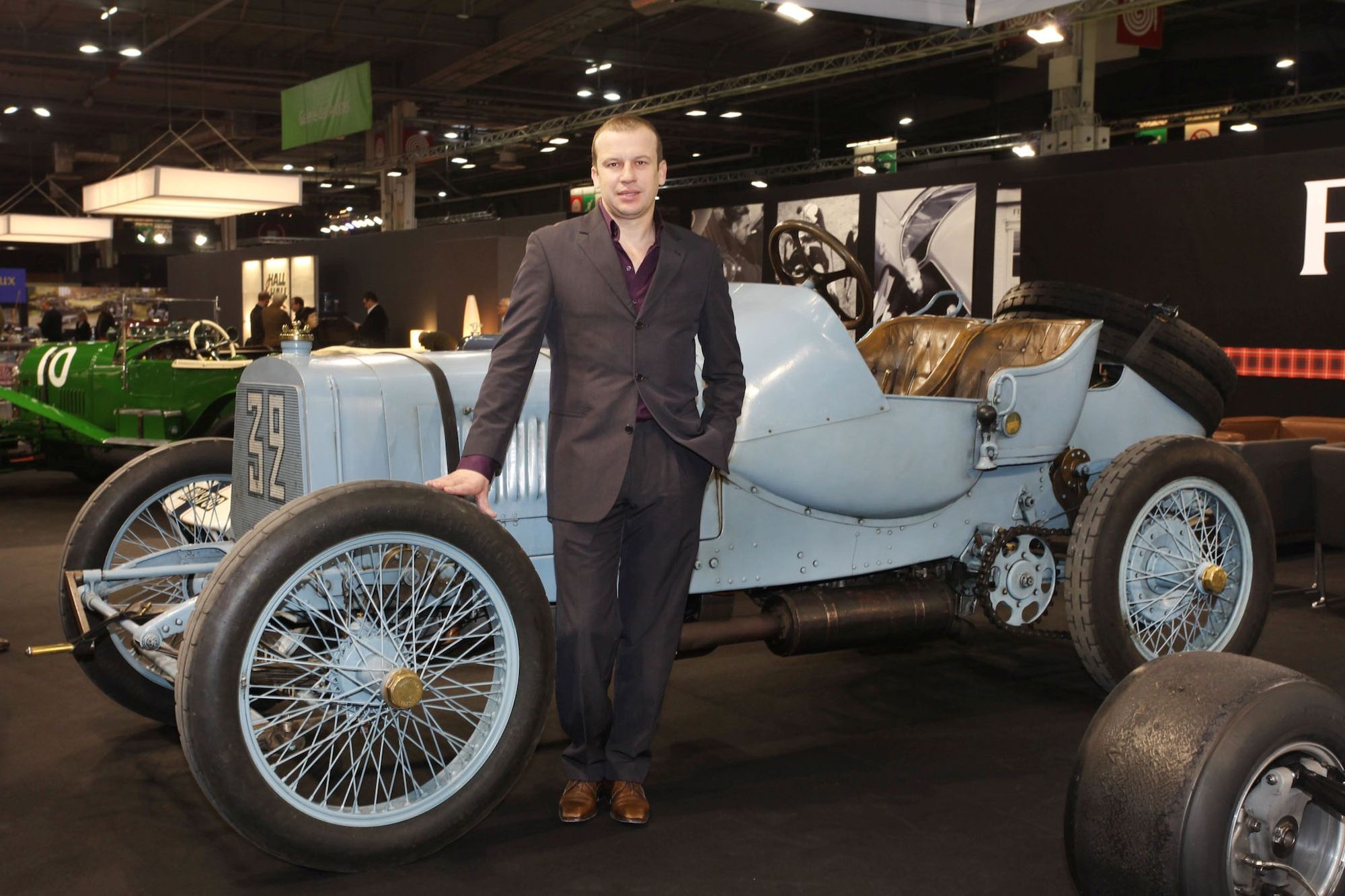 Fiskens, London's foremost historic automobile specialists, opened the Retromobile Show in fine fashion today (February 1) when they unveiled a stunning assembly of cars at the Parisian event.
The Kensington-based company were joined on their stand by Monaco Grand Prix winner Olivier Panis to present a raft of exciting new additions to their varied inventory, including an unmissable trio of superbly pedigreed French racing cars.
First to be revealed was the 1908 Panhard-Levassor, a remarkable example of early 20th Century performance engineering. This pioneering goliath of a car contested the grueling French Grand Prix of 1908, an event that stretched over seven exhausting hours through the dust-covered streets of Dieppe and out on to the surrounding public roads.
Following its competitive exploits the car was sold to a collector in Argentina where it continued to be campaigned for several years. It would then lie dormant until 1972, remaining in remarkably good condition and subsequently undergoing superb restoration work by renowned Bentley specialist Dick Moss. Today it represents one of the most original and complete pre-Great War grand prix cars in existence and a piece of French motor sport history.
It was joined on the stand by a 1965 Ford GT40 once raced by French racing legend Guy Ligier and double Monaco Grand Prix winner Maurice Trintignant. The car took to some of the world's greatest circuits under the Ecurie France banner, triumphing at the Nurburgring 1000kms, Trophee du Cognac and on home ground at Magny-Cours.
The trio was completed by another fine example of French engineering, the grand prix-winning Ligier JS11/15. Piloted by Didier Pironi, it claimed victory at the 1980 Belgian Grand Prix, recorded a total of five rostrum finishes and helped the team to end the year as runner-up in the World Championship. JS11/15 recently enjoyed a thorough restoration, including the install of a fresh Cosworth DFV engine.
"It has been a pleasure to unveil these superb classic racing cars," commented Panis. "All three represent part of French motor sport history. The Panhard in particular is absolutely magic and I still cannot believe people raced machines like this at full speed on dirt roads!
"This is my first visit to Retromobile and I have been genuinely impressed by the quality of the exhibition. I'd like to offer my thanks to Gregor and his team for inviting me and wish them all the best for the remainder of the show."
"I was immensely pleased with the reaction to the unveiling," added Gregor Fisken. "It was plain to see that those in attendance were genuinely impressed by what lay before them, and rightly so: the selection we have brought to this year's event is unquestionably our finest to date.
"With automobiles spanning the 20th Century we feel our stand provides a wonderful panorama of French motor sport, highlighting some of its most pioneering and successful machines.
"Finally, I'd like to thank Olivier for being here. As the most recent Frenchman to win a Formula One Grand Prix he was the natural choice to unveil these historic cars."
Retromobile continues through Sunday (February 5) at Paris' Porte de Versailles, where Fiskens' stand can be found at J91, Hall 3.
Main photograph courtesy of James Mann. For more information please visit www.jamesmann.com
For more information on Retromobile please visit www.retromobile.com